Aug 31, 2021 08:30 PM Central
Echo Alexzander
Advocacy, America, Blood Donor, Freedom, Healthcare Professionals, Homestead, Missouri, Moving, Pro Medical Freedom, Small Business, Volunteer, Work At Home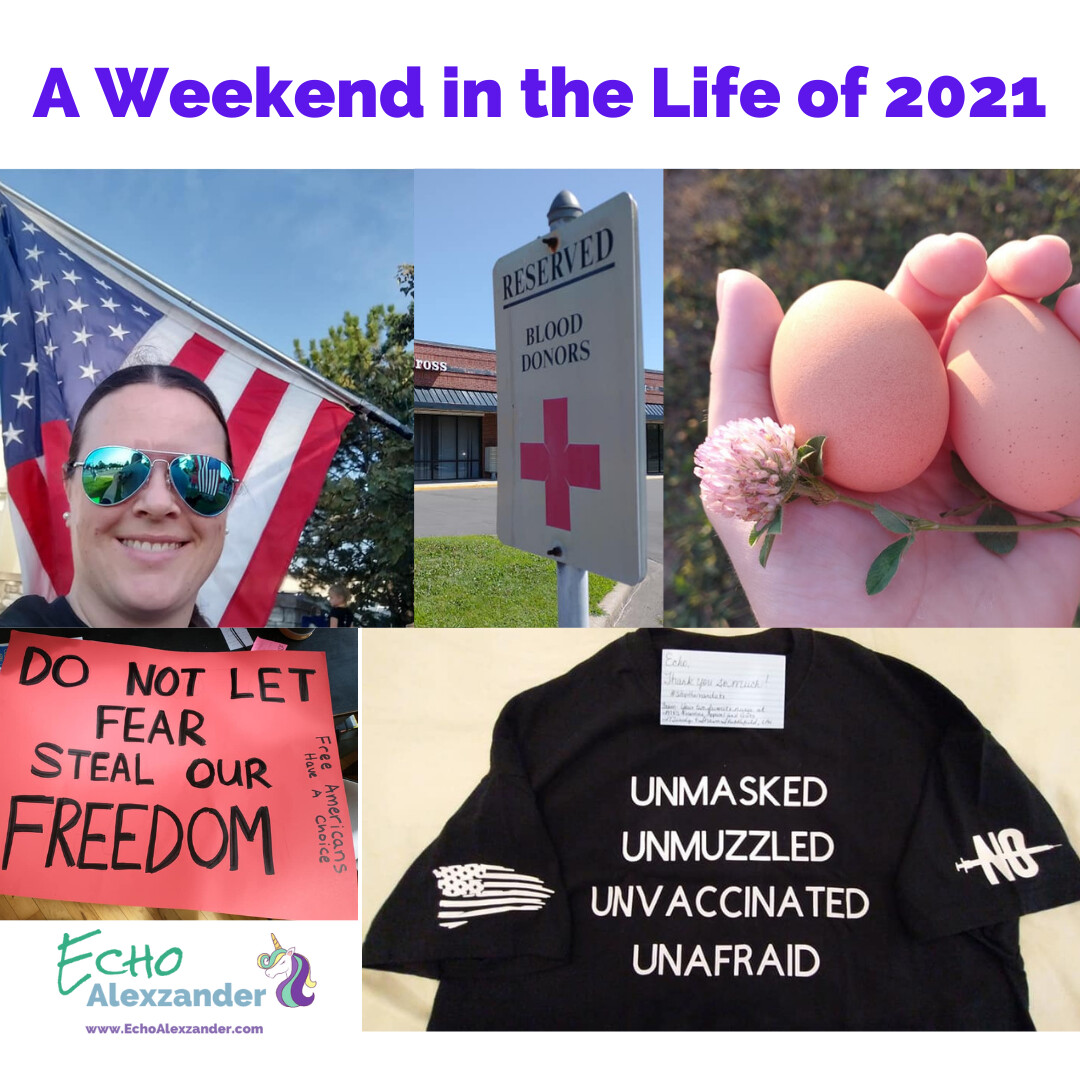 As change swept the landscape of our lives, there was such a longing to return to our lives as we had known them before. Would that ever happen? Would it be possible? If not, what was life becoming instead?
New normal queue the font strikethrough... those words alone are enough to make most of us cringe by this point in 2021 (if not sooner)!
Hobby Farming and Freedom Fighting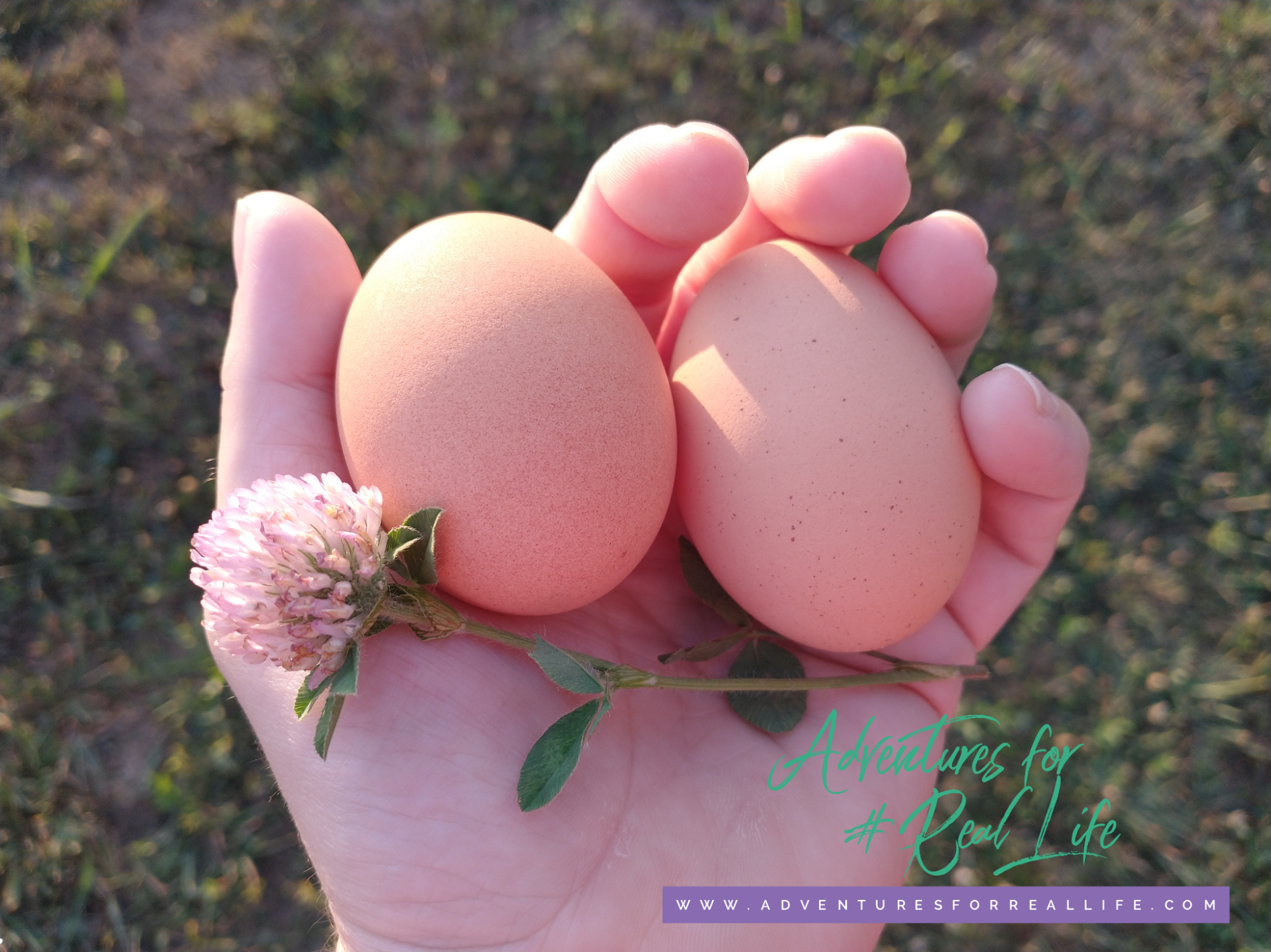 I had hoped to have a chance to sleep in just a little later this Saturday morning but we had work to do. As I walked to the chicken coop to let out our egg chickens to begin their day of free-range feeding, I strolled across the lawn in my pajamas and rubber boots. #RealLife I gathered the eggs from the day before since we hadn't collected them the day before having been out late
visiting the Missouri State Fair
for the first time.

I came back inside into my computer and started responding to Facebook questions and messages I had seen about fellow healthcare professionals, firefighters, and other law enforcement professionals needing help with exemptions to maintain their bodily autonomy and medical freedom, and avoid the vaccine job mandated by their employer or their state. These professions were already in the fight and we knew others such as teachers and college students would soon be joining.

My phone buzzed as I got a text from someone who had visited my
religious exemption resources page
needing help to ensure that sure that they got the files downloaded to help their military spouse prepare their exemption request.

Soon I moved to the dining room table to begin on my
protest signs
. Mind you this is a folding table as we are still in the
process of moving
.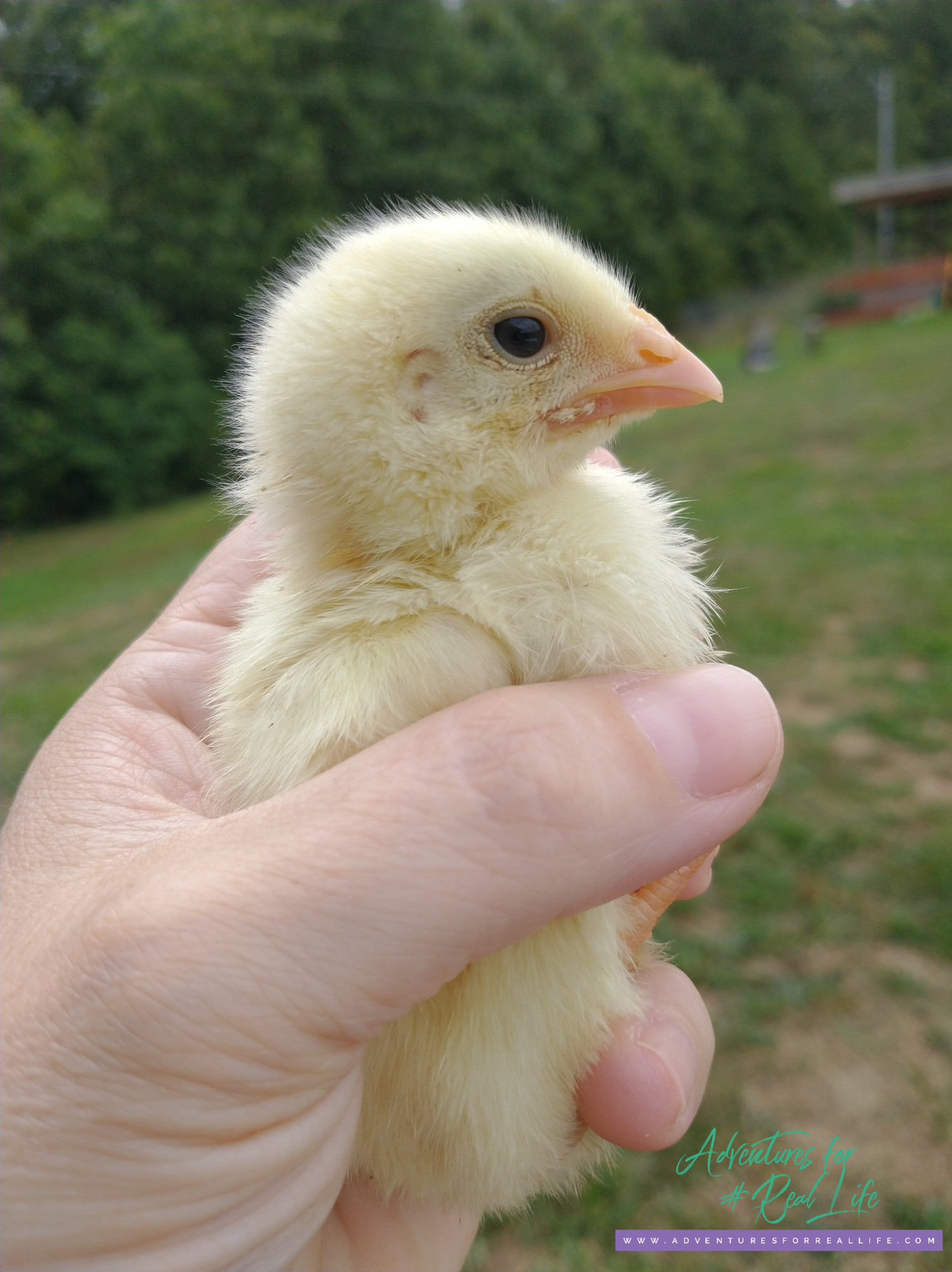 The sound that filled the air and came through the house was the circular saw being run in the garage by my husband James who was building a 'chicken tractor' for us. Our first set of meat chickens would be arriving shortly and we had to get it finalized so that we could move one step closer toward becoming more self-sufficient.

I listened to the saw blade run as I swept the oversized permanent marker across the poster board and tried to make sure I spelled the words correctly. Is there anything like putting letters into three or four-inch sizes on a poster to make you want to question your spelling?!? Haha You can critique my poster creation skills
here
.

Eventually, James came in and reminded me that I needed to head off to the bank in order to make it in time to cash the check from the local grant funding that we had received.
Somewhere in between working full-time jobs, homesteading on our new land, we were still actively involved in our community in so many ways.
Roadside Clean-up Meets Mental Health Community Support Efforts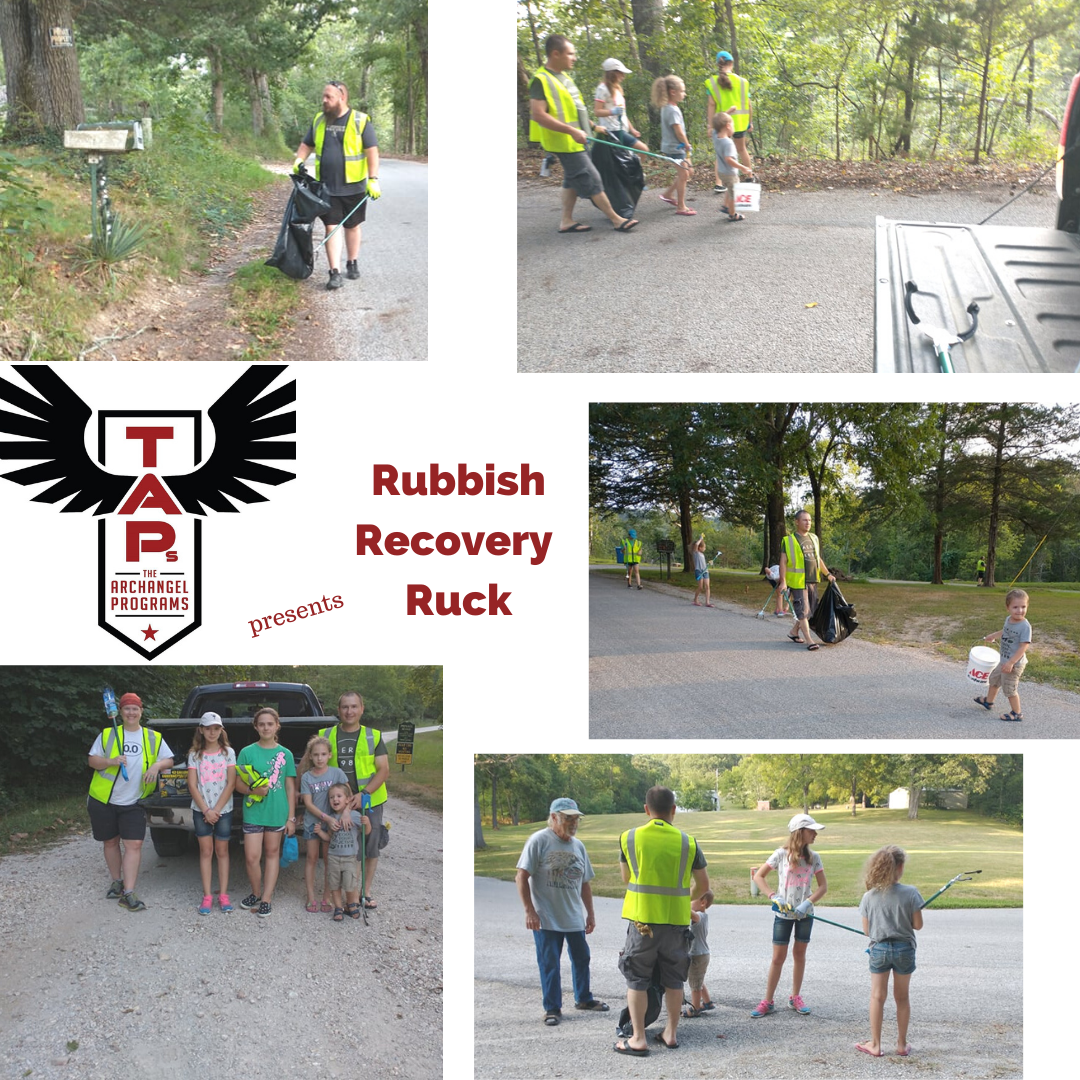 We were the work that James had started through
TAPs
and had an upcoming
Rubbish Recovery Ruck
scheduled with our Missouri Misfits ruck club to involve community members, local youth, and create a space for group exercise, discussion, and clean-up!

We invited everyone,
whether they rucked or not
, and focused on cleaning up our local roadways, backcountry roads, and keeping garbage out of our waterways. This new land that we had fled to was so beautiful and pristine, we did not want to allow it to be tainted and destroyed by the carelessness of a few.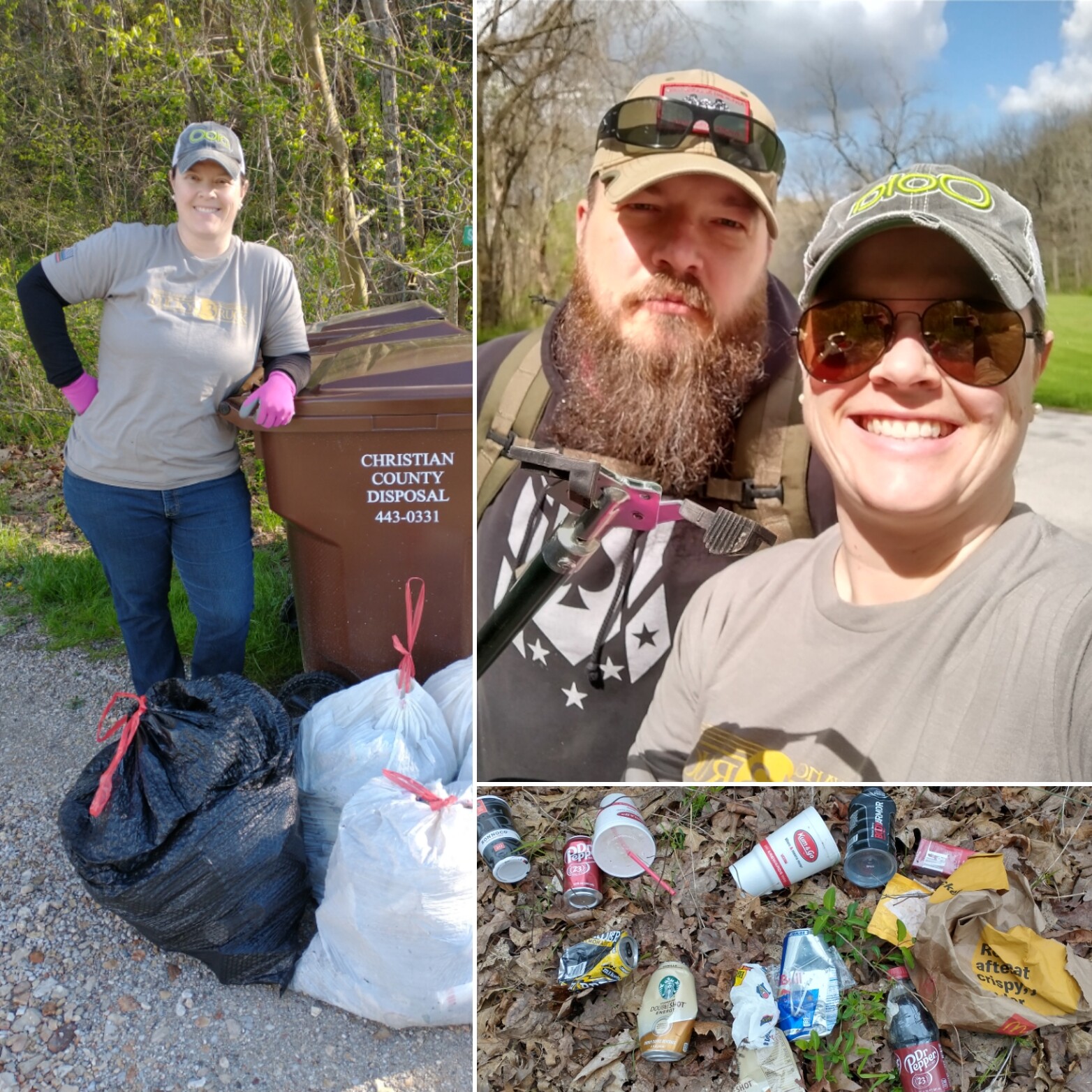 Because what we had found with the state roadway programs was so limited to business sponsorship in order to participate in major highway cleanup, we had taken it upon ourselves to make a difference in our community in our neighborhoods. No one else was coming to clean up these roads so it was up to us if that work needed to be done. We had been awarded a small Operation Round Up Grant from our local utility company White River Valley Electric Cooperative to help us ensure we had sufficient safety and clean-up equipment for our participants for these events we were hosting. They were standing by their commitment as a not-for-profit, member system: "Our commitment to the community is a founding principle of who we are as a cooperative". And for that we were thankful!


With our event planned and advertised, it was time to get ready for Saturday night.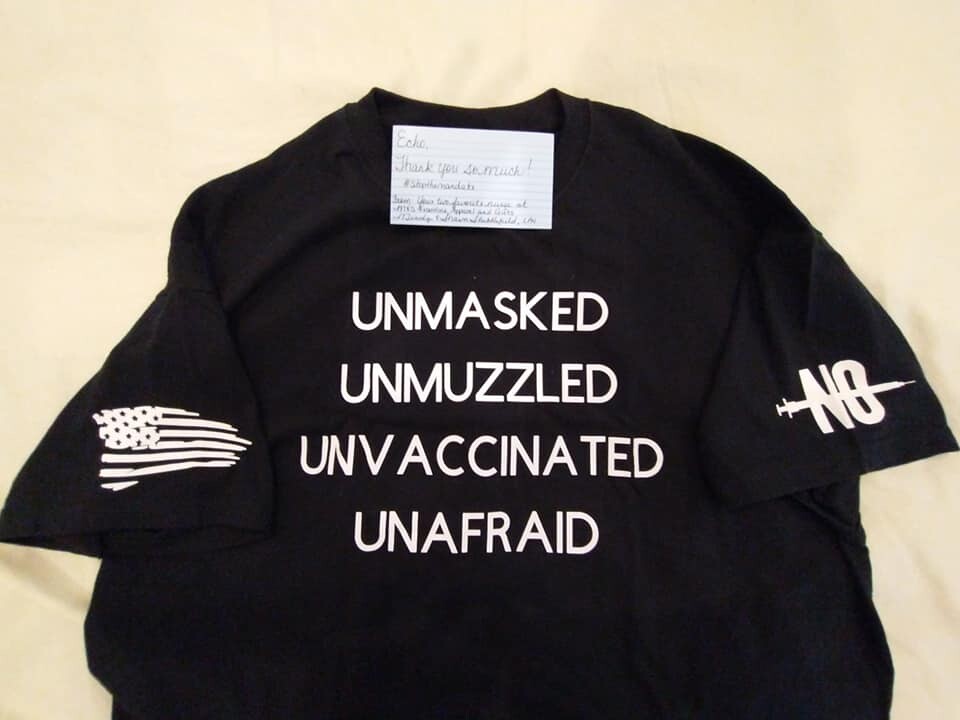 As I threw on my t-shirt and summer shorts getting ready to head to the local medical freedom rally at our regional hospital, I had to smirk a little thinking back to a photo I had just seen on Tiktok. When I saw someone being arrested at another protest, I remarked to myself for a moment how cute their shirt was. I wondered to myself if they thought they would look cute in that shirt if they got arrested at the event they were attending when they got dressed that morning?

We came home from the event with full hearts knowing that we had stood up for our beliefs, not only for ourselves but for others who don't realize the battle that we are in for our American and personal freedoms. This is not about healthcare workers; this is about all Americans losing these freedoms of choice over their bodies.


There were so many of us with a similar need to escape the tyranny that we were facing that there are entire groups such as on Facebook called
Medical Freedom on the Mov
e. Interestingly in the short time since we had started our
Ozark Farmstay at Freedom Ridge Airbnb rental the prior month, we had already hosted multiple families specifically traveling to the area from out of state to explore as there were considering moving, and we had others booked for the same reason upcoming.

As vaccine mandates were coming down, these groups had revived from their original purposes in 2020 around lockdowns and other government overreaches, and for people like us,
small business owners who had lost it all.
Prayer for our Enemies
Out west, even bringing an American flag to a protest would get you called a terrorist. For many of the events in Oregon, would drive in our cars around the capitol building, horns honking, music blaring, and waving flags. We were demanding that the Governor reopen our state and stop demolishing our small businesses. As a result, people thought we were trying to spread COVID even though we never left our cars or interacted with anyone else. #Science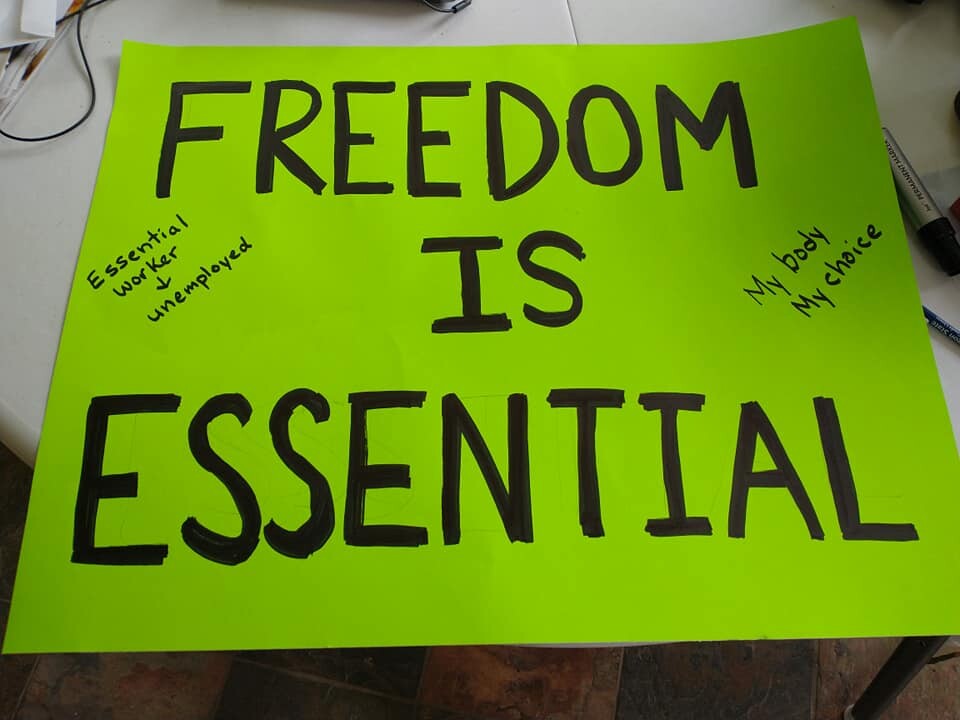 On Saturday, we gathered together with such a peaceful and hopeful feeling in the air. The number of American flags seems to outweigh all the other signs and props that were there. #GodBlessAmerica

People gathered together to pray over the hospital and ask God's covering over the staff that was facing this persecution. As ambulances passed by hands were raised in prayer and over the drivers being forced to wear masks to do their job, along with for those who they transported.

There were the usual people yelling back for flipping us off, but at least we didn't get any trash thrown at us as we had in Oregon while we carried the American flag rucking. On a ruck, we once encounter such vitriol, someone wanted us to die a terrible death because we rucked that day at that event in memorial of fallen soldiers.


It had become such a sad state of affairs.
Our New American Dream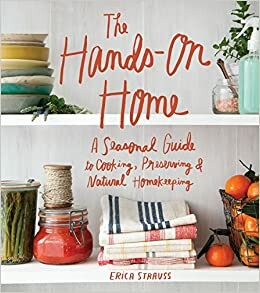 As I snuggled into bed that Saturday night I picked up my new library book to read for my
Oola daily action. The book is titled
The Hands-On Home: A Seasonal Guide to Cooking, Preserving & Natural Homekeeping by Erica Strauss, I so loved the introduction that the author gave about those of us in a modern world striving to move back to something simpler.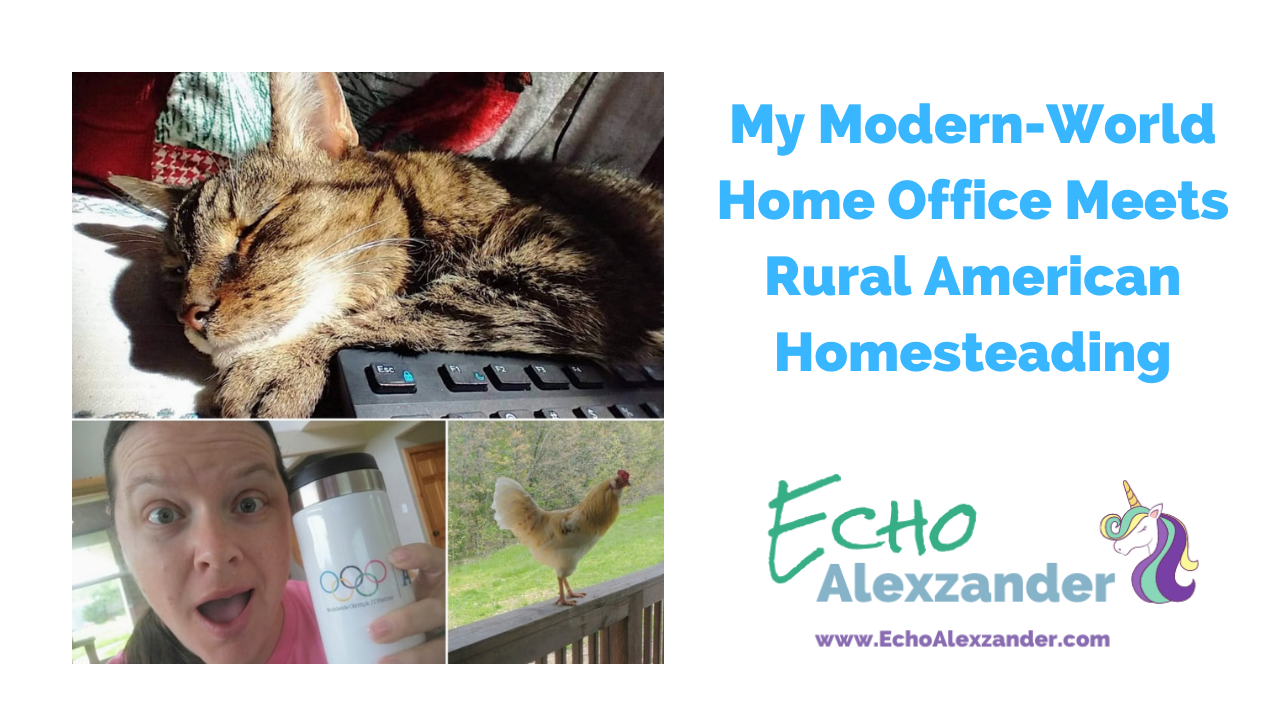 I had just written about this that
My Modern-World Home Office Meets Rural American Homesteading blog.
The idea that I worked for a multi-billion-dollar technology company based in Europe, serving a client in Texas through a large health system, and doing so in pajama pants sitting in the living room of our home in rural Missouri on 10 acres.

This was where I continued my career in healthcare serving large health systems to make them even better. This is where we were striving to reconnect with the (new?) American dream and consciously move toward a simpler life from generations past.

Sunday Morning Service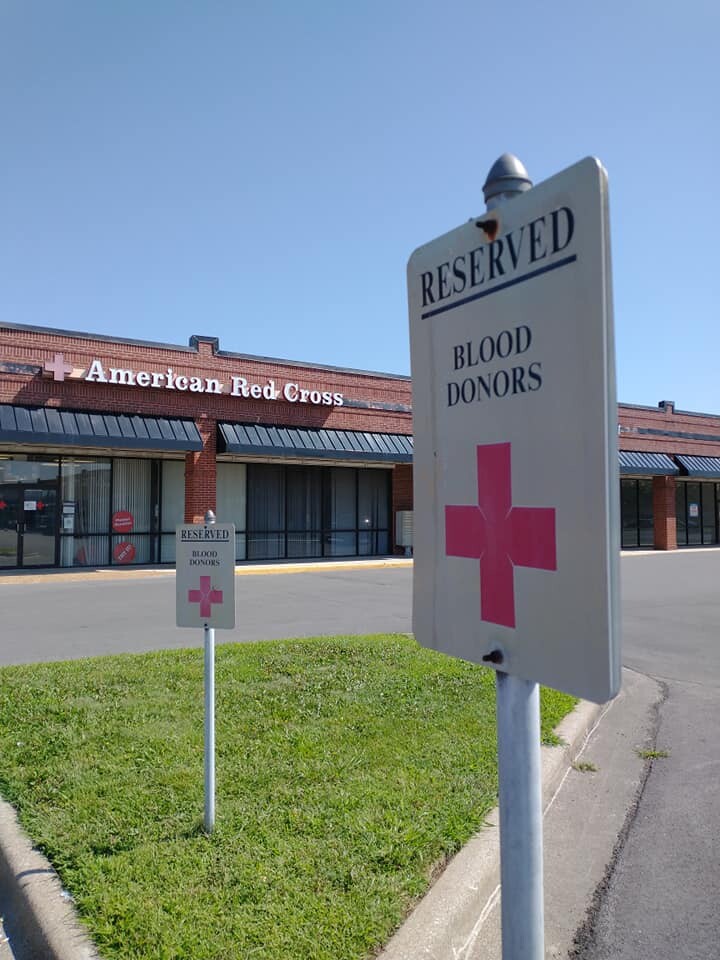 On Sunday morning I cooked up fresh eggs from our hens and prepared my body and mind for my upcoming blood platelet donation. It felt like such a strange contrast, that I was being challenged daily for my belief in medical freedom and choosing to not vaccinate my family. And yet here I was because I had taken responsibility for my health and had been a good steward of what God blessed me with, I was about to save lives and support cancer patients. Was I really being so selfish as people accused? Or was I so loving, that I cared about myself and others at a different level? #YouDecide

A quick check of Facebook showed the only response from the community who was angry that we had been protesting the night before was from a reporter who attended and

supposedly got into

an altercation with someone. Who knows if the media will even cover that there was an event of hundreds of people gathered, even if they did there's been such a loss of faith in any amount of truth coming from the mainstream media that maybe we don't want them to show it.

Of course, I hadn't gone live on Facebook because I was currently still in 'Facebook jail' (I was actively being censored) for speaking the truth on that platform. They had banned me from going live for 30 days even though I was otherwise still allowed to interact. So instead my videos went out to new platforms that may not have even been a part of my life a year ago, platforms like Telegraph, Signal, and MeWe.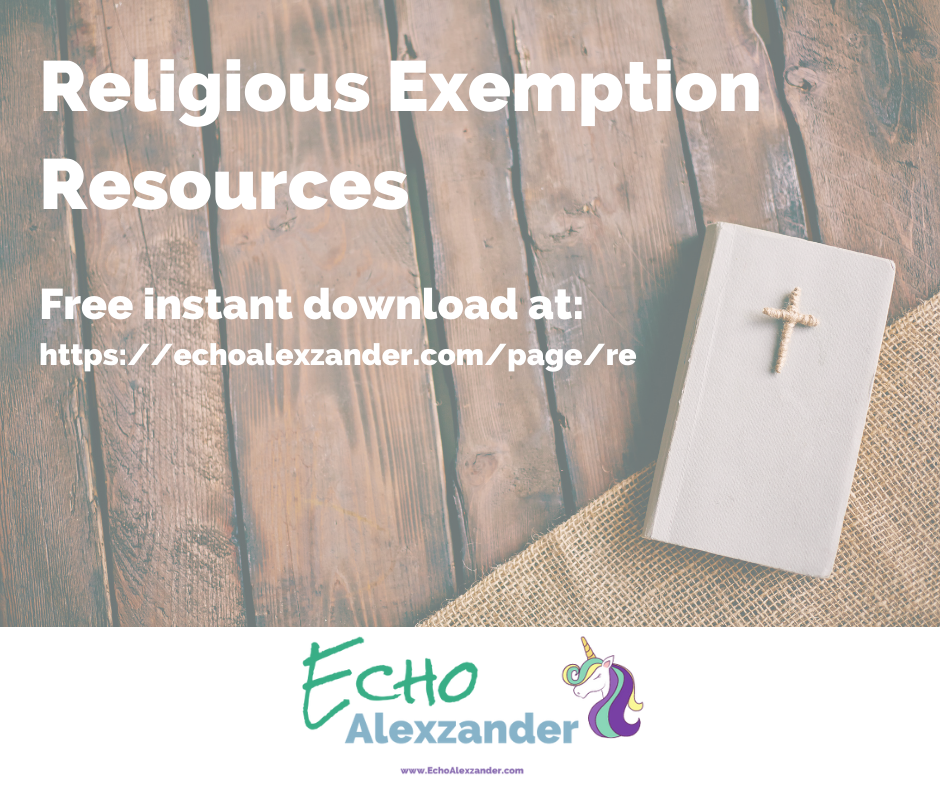 They quickly censored my religious exemption URL for sharing free religious exemption resources with other Healthcare professionals and military families. I had switched the URL into an image to see how long it would take for them to block that image as well. In the meantime, my new page had gotten over a few thousand hits in just a week's time.

It was hard to believe that it was the end of August and the summer was flying by and as we looked ahead to the 20th anniversary of September 11th, it was with great sadness to learn that the celebration of that memorial event was now by our government being considered a 'potential terror threat':
It felt like beyond the censorship online and the lies being told by the government and media, we really were moving toward Communist control that we could not even question the government which in America, is the people. James played a short news clip explaining the terror threat concerns for election questions, public health requirements, and now the 9/11 memorial. The news reporter summarized them as anti-government and those of us questioning the government: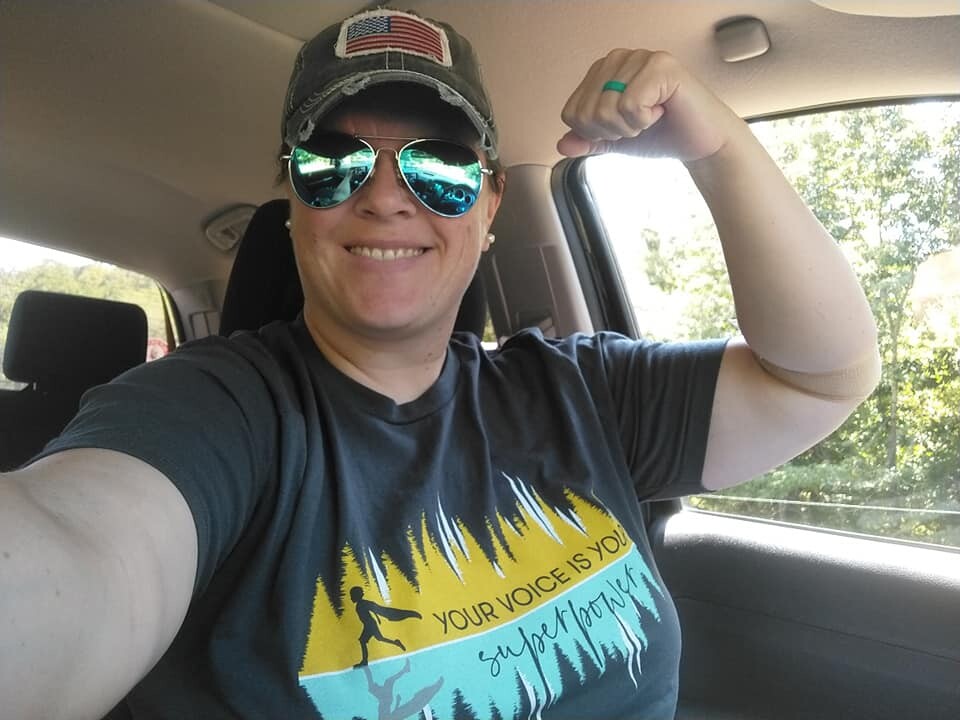 As I continued into my Sunday morning, I got dressed and picked my Young Living Foundation 5k fundraising t-shirt to wear and smiled to read that the message on the front was that YOUR VOICE IS YOUR SUPERPOWER. I pulled my hair up in a top bun and pulled it through my American flag hat and headed out the door for my donation appointment.

All of these extra trips around our community over this long weekend had really brought to light the reality of the rising costs such as gasoline at $3 a gallon up from $2.13 when we moved to Missouri in January of 2021. They were all worth it!
What a weekend! Patriotic activism, community service, self-care, mental health advocacy, blood donation, rural homesteading, and a glimpse into a weekend in the life of 2021.
What resonated the most with you from my weekend adventures? Comment and tell me below!
---
Disclosure: This free download contains affiliate links to a few select products I use, enjoy, or recommend.
I may receive a small commission for purchases made through these links, and your purchase supports companies and products I believe in. Isn't that rad?!? I can show you how to do the same, contact me! ;)
Information courtesy of Echo Alexzander