08/15/2022 09:00 AM Central
Echo Alexzander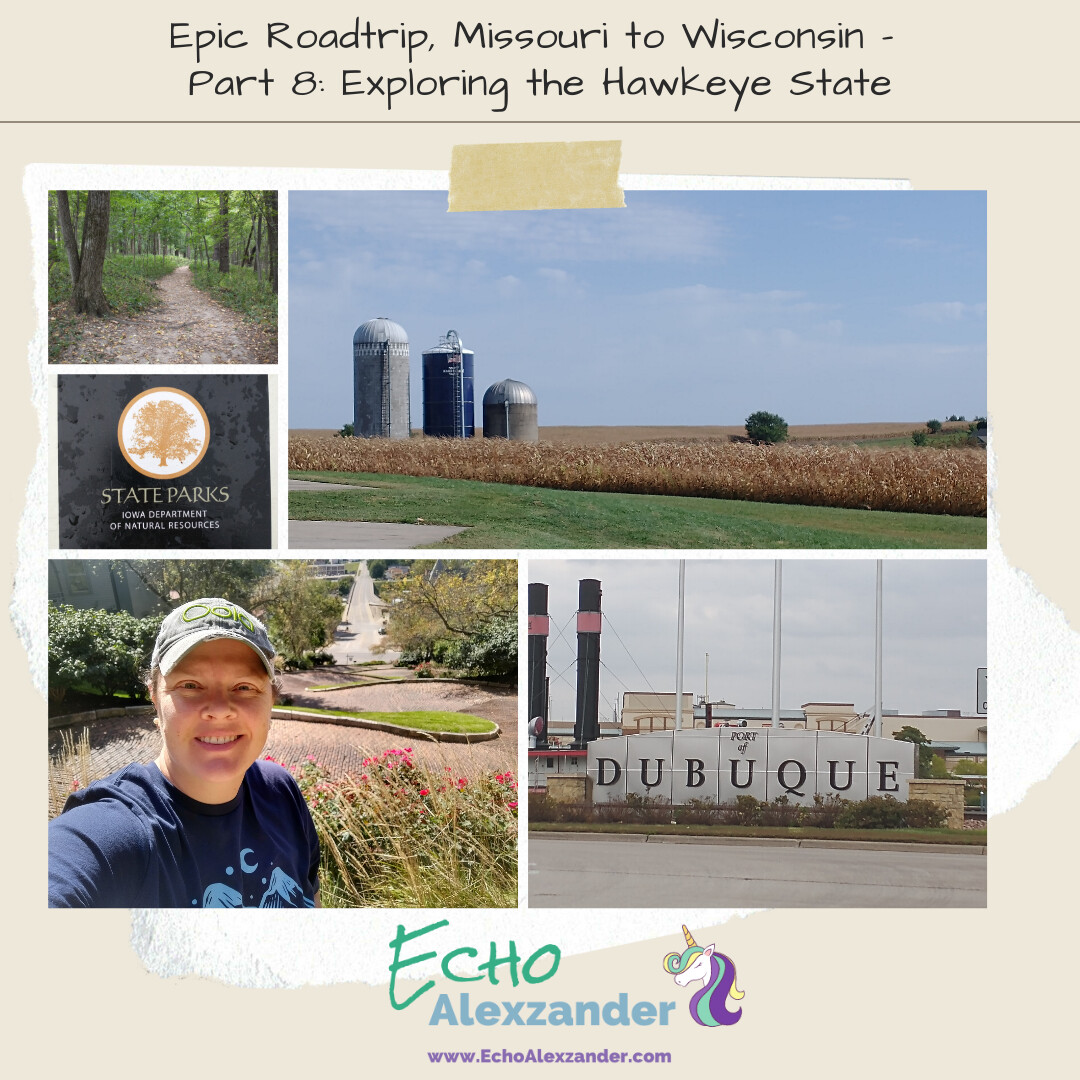 Elevators, caves, and one 'Snake Alley' took me through the ups and downs of Iowa!
Who knew the Hawkeye State had so many memorable ways to get around and see the sites? And only one of them gave me a moment of my life flashing before my eyes...
Make sure you never miss out on a
travel adventure for #reallife post,

sign-up

to receive them delivered conveniently to your inbox!
#AhYeah
If you didn't see the adventures at Epic, check out
Part 7 of this series here
.
But First, Cheese
Have you even been to Wisconsin if you haven't eaten some of their locally crafted cheeses?!?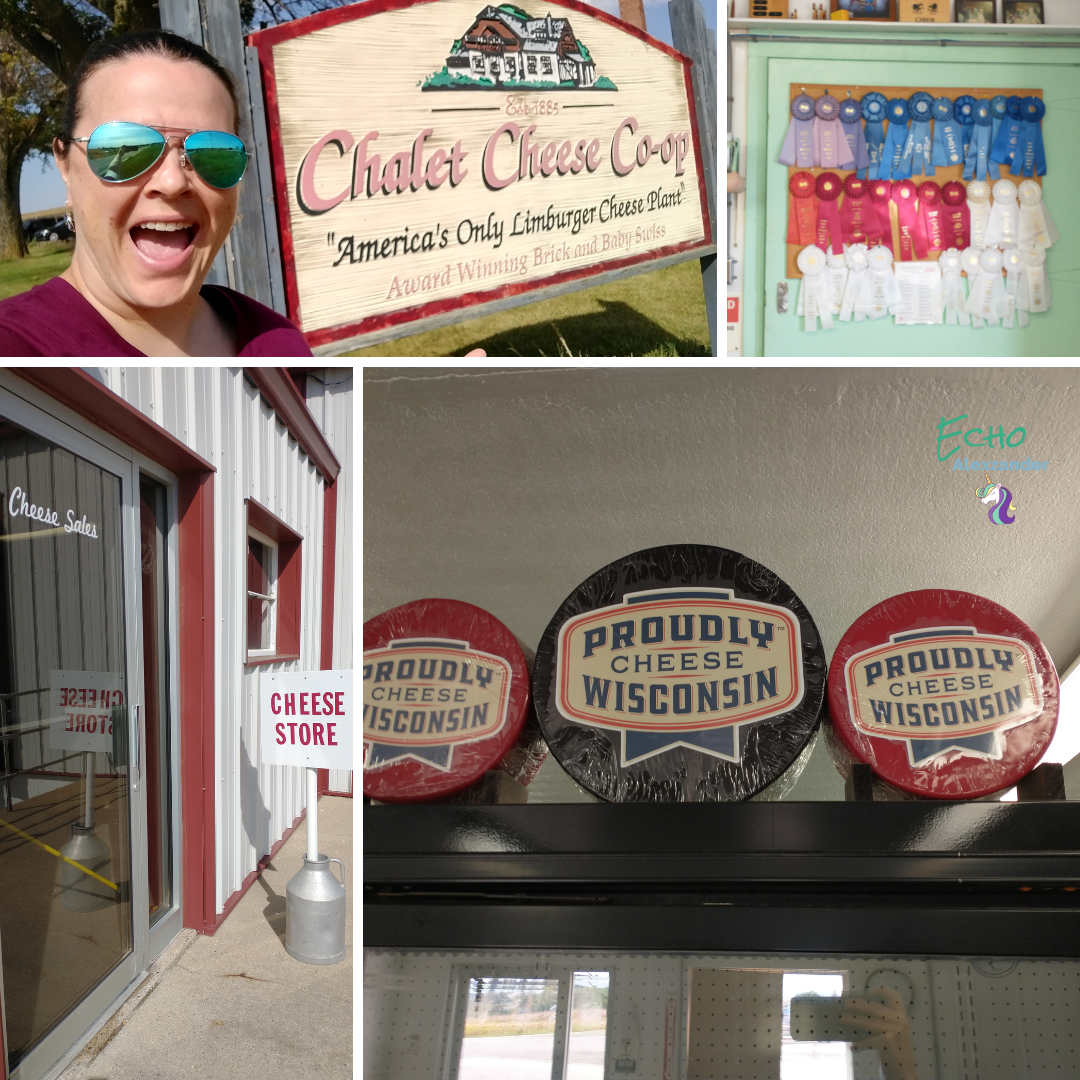 Before I could leave Wisconsin I had to hit up one more cheesy adventure at the
Chalet Cheese Co-Op
, home of
Limburger Cheese
. Founded back in 1885 as a group of family farmers, they are now the only cheese factory in the United States that produces this unique, aroma filled cheese! Don't take my word for it, they are
world champions
.
Their
Country Cheese Store
is less than 45 minutes from the Epic world headquarters where I was in Verona and a lovely way to see some of the countryside. Fear not if you aren't there,
you can order online
and they even have an '
Adventures Seeker Gift Box
', yes please!
Okay, now we can head over to duh-byook (Dubuque) Iowa!
Adventure in an Elevator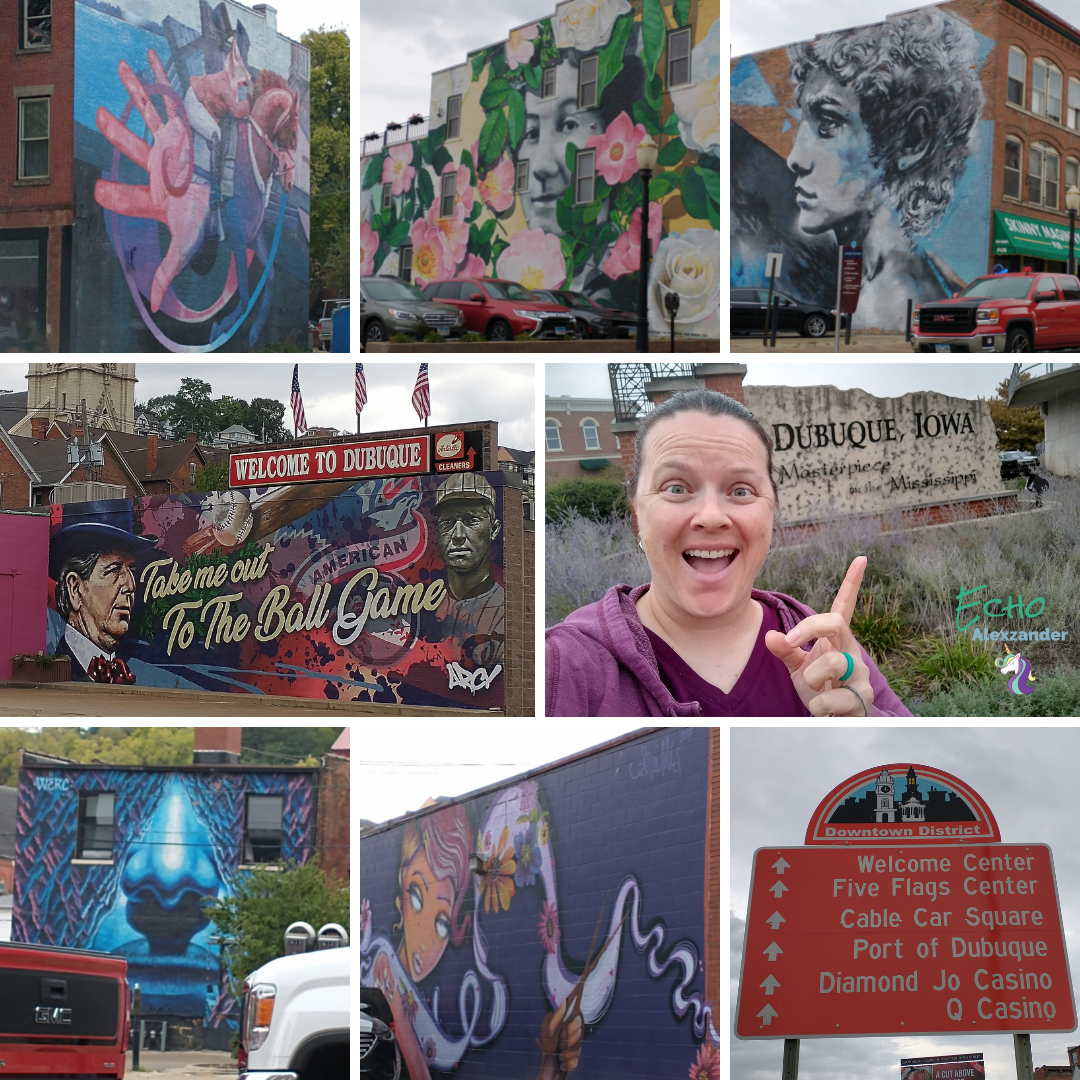 Heading southwest another hour or so took me across the mighty Mi-ss-i-ss-i-pp-i River and into "
Dubuque, The Key City" of Iowa
. How did it get this name? "The basis of the name was said to reflect Dubuque's geographic location halfway between Milwaukee and Chicago" amongst other benefits over other Iowa towns.
I was greeted by so many cool painted murals it made me want to park and walk around to see them all. But I was on a mission to get to the famous
Fenelon Place Elevator Company
, the 'Worlds Shortest and Steepest Railroad.'
"296 feet in length, elevating passengers 189 feed from Fourth Street up to Fenelon Place. Magnificent view of downtown Dubuque business district, the Mississippi River and three states." (Iowa, Wisconsin, and Illinois)

While you know I love adventure and am fine riding roller-coasters, going up heights, etc., this four dollar round-trip fare gave me a moment of panic when the train car gave an unexpectant jolted and the operator had to message to headquarters while I was onboard. No wonder my husband is always warning me about carnies and other operators of equipment I trust my life to... So take this round-trip journey at your own risk! #YouWereWarned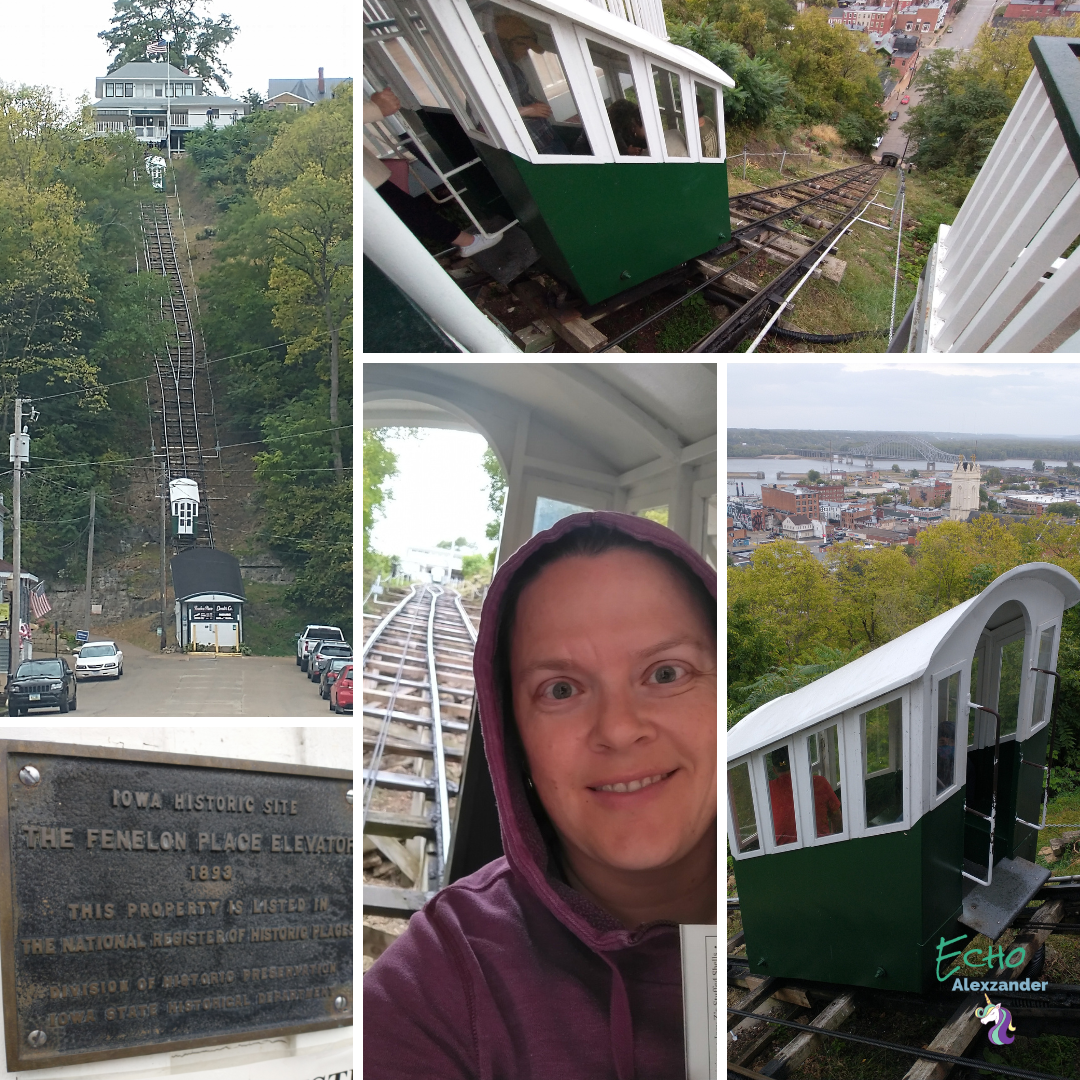 Prefer a mini experience of the ride? Check it out here on my YouTube channel:
Since I didn't die on the elevator, I guest the adventure will continue!
Time for some spelunking!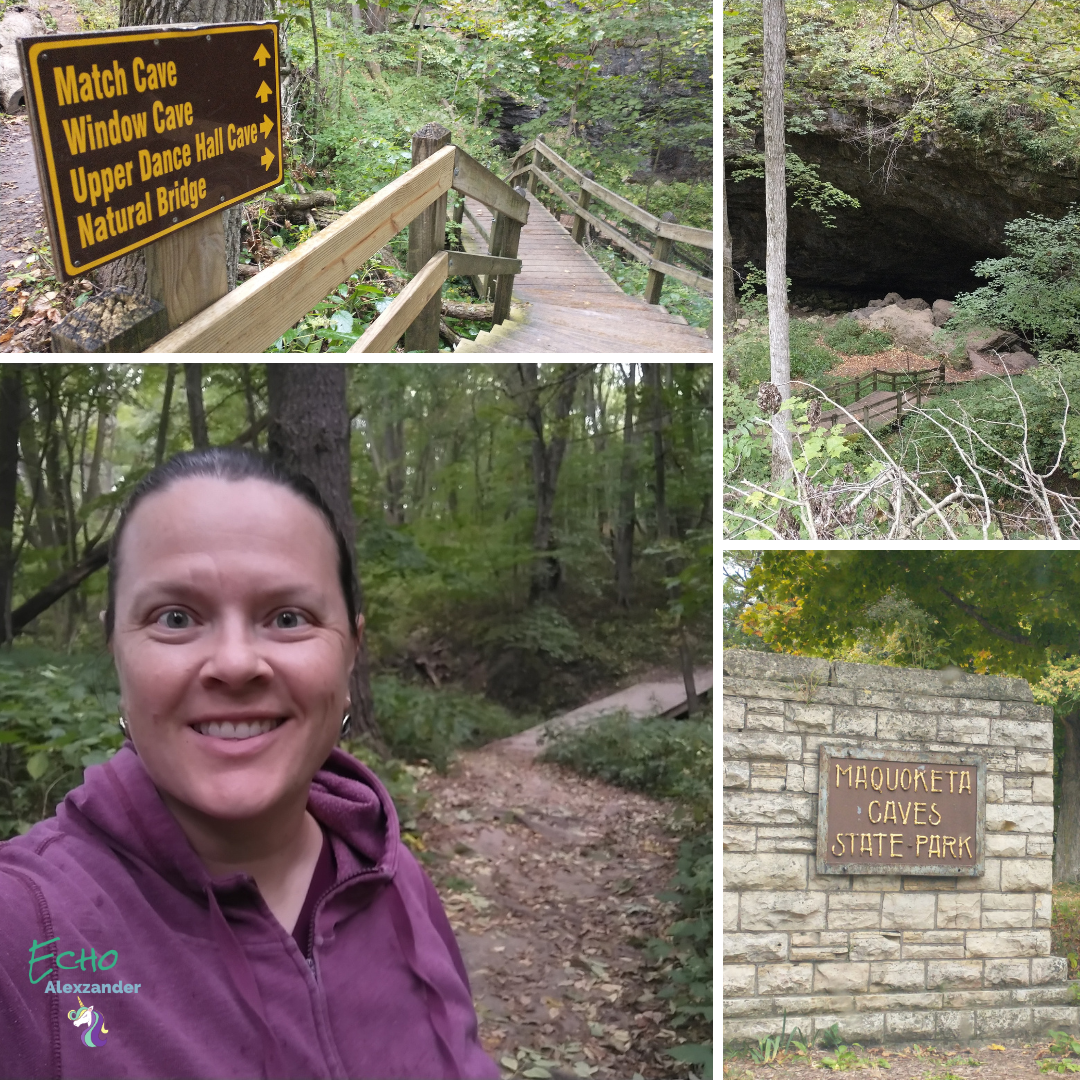 Time for some hiking and a little caving adventure, why not?
Maquoketa Caves State Park
is the place for both! They had me at the description (yes, also because they used my life word, adventure):
"With more caves than any state park, Maquoketa Caves is one of Iowa's most unique outdoor attractions. Enormous bluffs tower throughout the park, and a six-mile trail system winds through geologic formations and forests brimming with natural beauty. As one of the state's earliest state parks, Maquoketa Caves has been a popular destination for picnickers and hikers since the 1860s. Grab your hiking shoes and a flashlight before traveling to Maquoketa Caves, because this state park is nothing short of adventure."
There is something about exploring under the earth. The cool of the wind as you enter the mouth of a cave, the sounds of the water dripping and flowing through in streams, and the feeling of being somewhere almost sacred.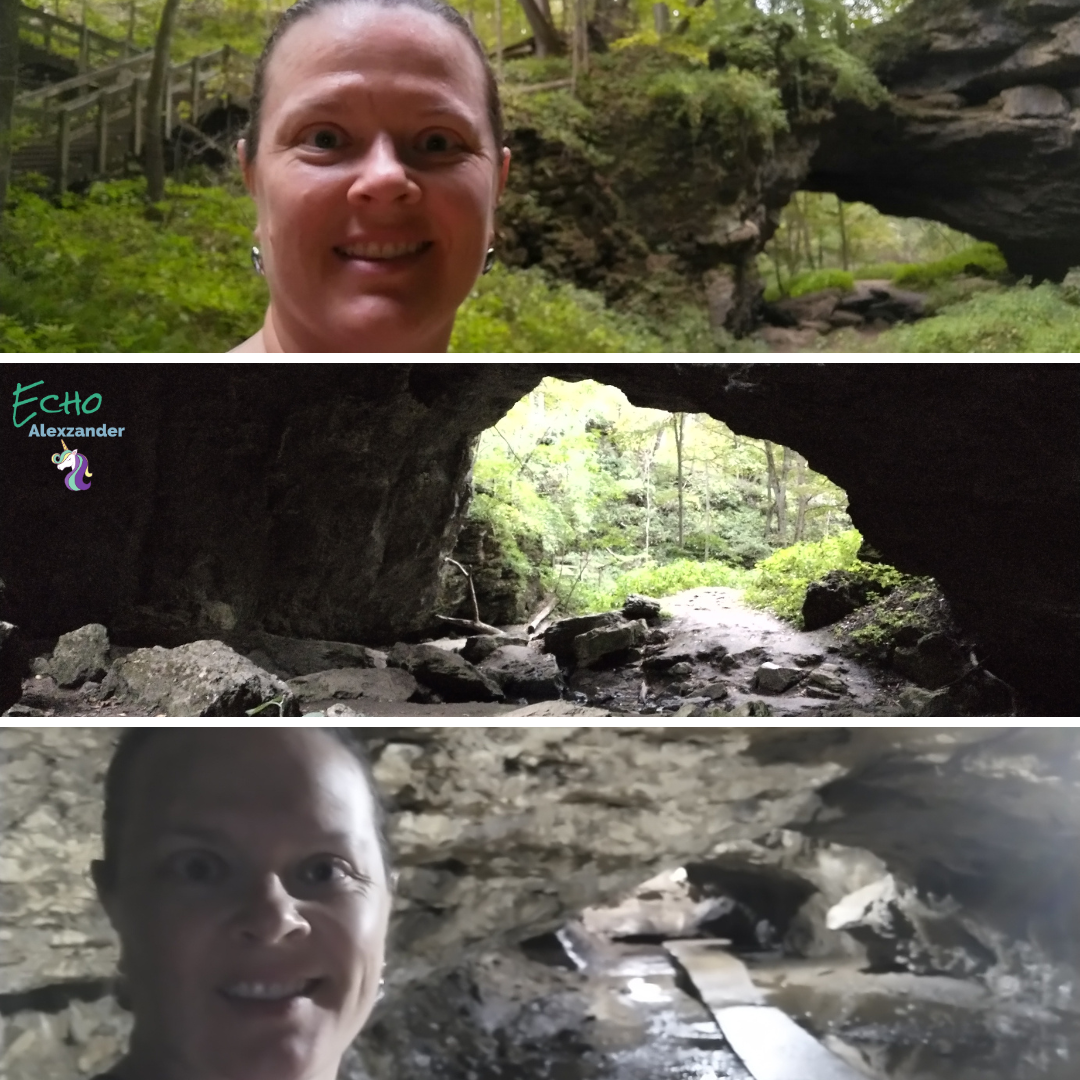 Come along with me below the surface:
Keep reading to find the final adventurous way to travel that I discovered down the road in Burlington, IA!
Snake Alley
I didn't encounter any snakes while hiking or caving, so
I had to seek one out
instead. Well, the famous
Snake Alley
that is!
"Once deemed by Ripley's Believe it or Not to be the "Crookedest Street In The World," Iowa's Snake Alley was created in 1894 by a trio of German immigrants. The steep street was constructed with a purposeful design, meant to mimic the vineyard trails of Europe."
Source
Let's go:
Wow friends, what fun in Iowa! Thanks for traveling through with me and be sure to check out parts 1-7 of the MO to WI Epic Road Trip blog series if you missed any of those.
Coming next is Part 9, Northern Missouri, from the Civil War to the Capital and a Castle!
What is a memorable way to travel that you have experienced like one of these?

---
Information courtesy of Echo Alexzander