Jun 30, 2022 02:43 PM Central
Echo Alexzander
What would a corporate office be like if Willy Wonka designed it?
I can say with confidence that it would like the magical marriage of whimsy and imagination that you will find at the Epic Systems home in Verona, Wisconsin!
Make sure you never miss out on a travel or adventure for #reallife post,

sign-up

to receive them delivered conveniently to your inbox!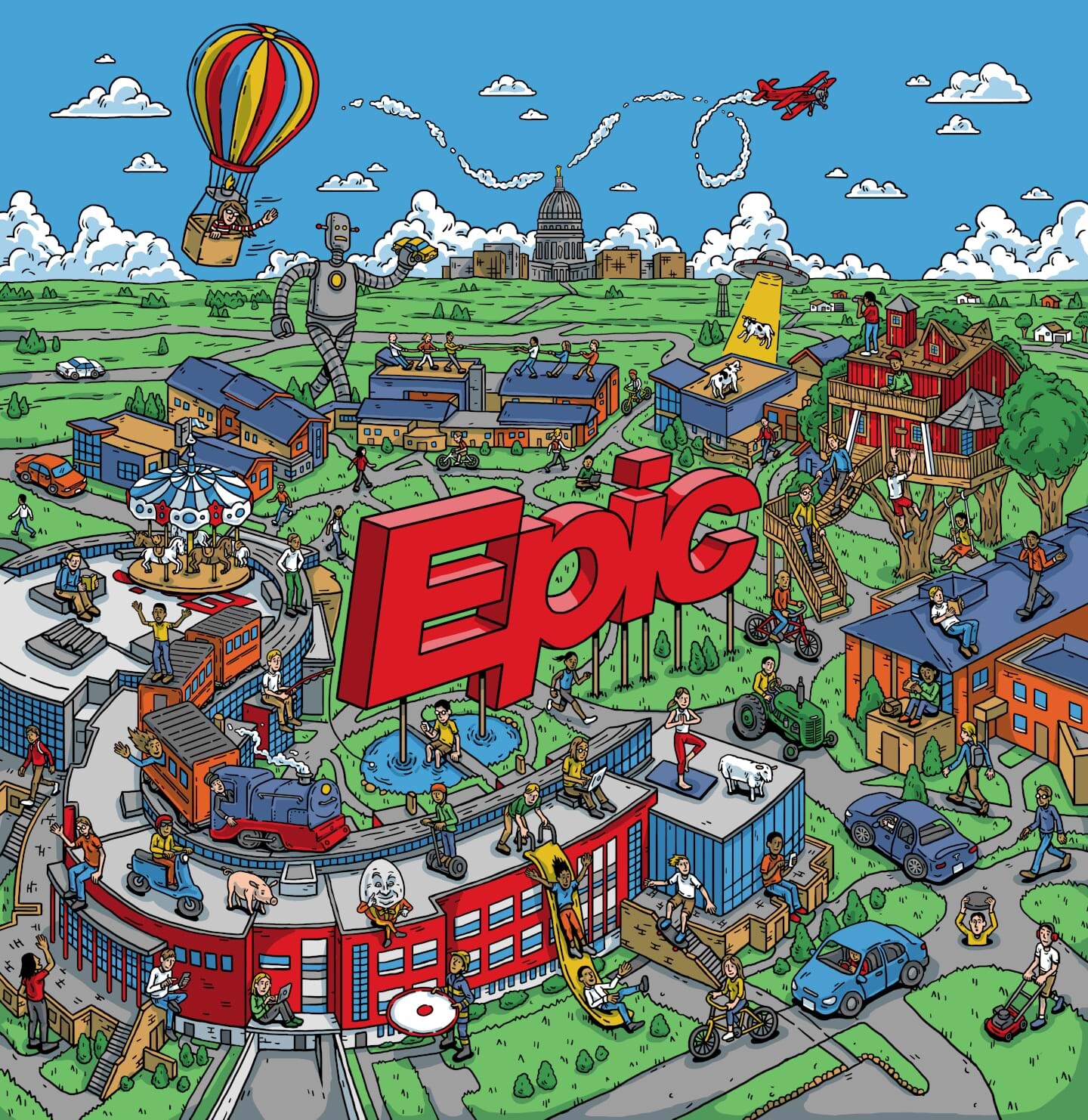 It's hard to describe the experience that is going to the
Epic Systems
corporate headquarters in Verona, Wisconsin. Think Disney Land meets your childhood story books. Fantasy meets beauty in nature and architecture. This illustration from Tommy Washbush gives a tiny sneak preview into the circus that is their campus:
Something like a 'Where's Waldo' level image where the longer you study it, the more wonder you discover. Located in the rural countryside to the southwest of Madison, you cross over through fields of cows and into some level of a twilight zone.
With billions in annual revenue and unlimited creativity,
you might be amazed at what this company is doing.
Check out this piece from the New York Times back in 2018 that does an excellent job looking behind the curtain in what they title
"Willy Wonka and the Medical Software Factory
"...
I've heard the term epic in the lexicon of the younger generation, but is that what we are talking about? Read on and I'll tell you.
But First, What the Heck is Epic?
These days when you head to your doctor's office or are seen in a hospital, you are likely to experience the staff working on computers to document your visit and all the details from start to finish. From the check-in desk to the clinical documentation at the bedside, it's likely happening in an Electronic Health Record (EHR) or Electronic Medical Record (EMR).
Epic Systems is one such solution that develops software to help patients and healthcare providers alike. As of the time of this blog, they have over 250 million patients with a current electronic record in Epic in a worldwide group of healthcare organizations.
Before we get into pictures from my tour, a quick answer to why 'epic' is the name of a software company. Their website explains:
"An 'epic' is a glorious recounting of a nation's events. Like the Iliad or the Odyssey, our electronic health records chronicle the story of a patient's healthcare over time."
I started on my Epic career back in 2011 (whoa, that was a long time ago, I know) and tell about how to find your own adventure in healthcare IT
here
. If you are on
LinkedIn
, let's be sure we are connected!
Now that you know what this company is and does, let's get back to the adventure that is exploring their campus!
Choose Your Own Adventure and Take a Self-Guided Tour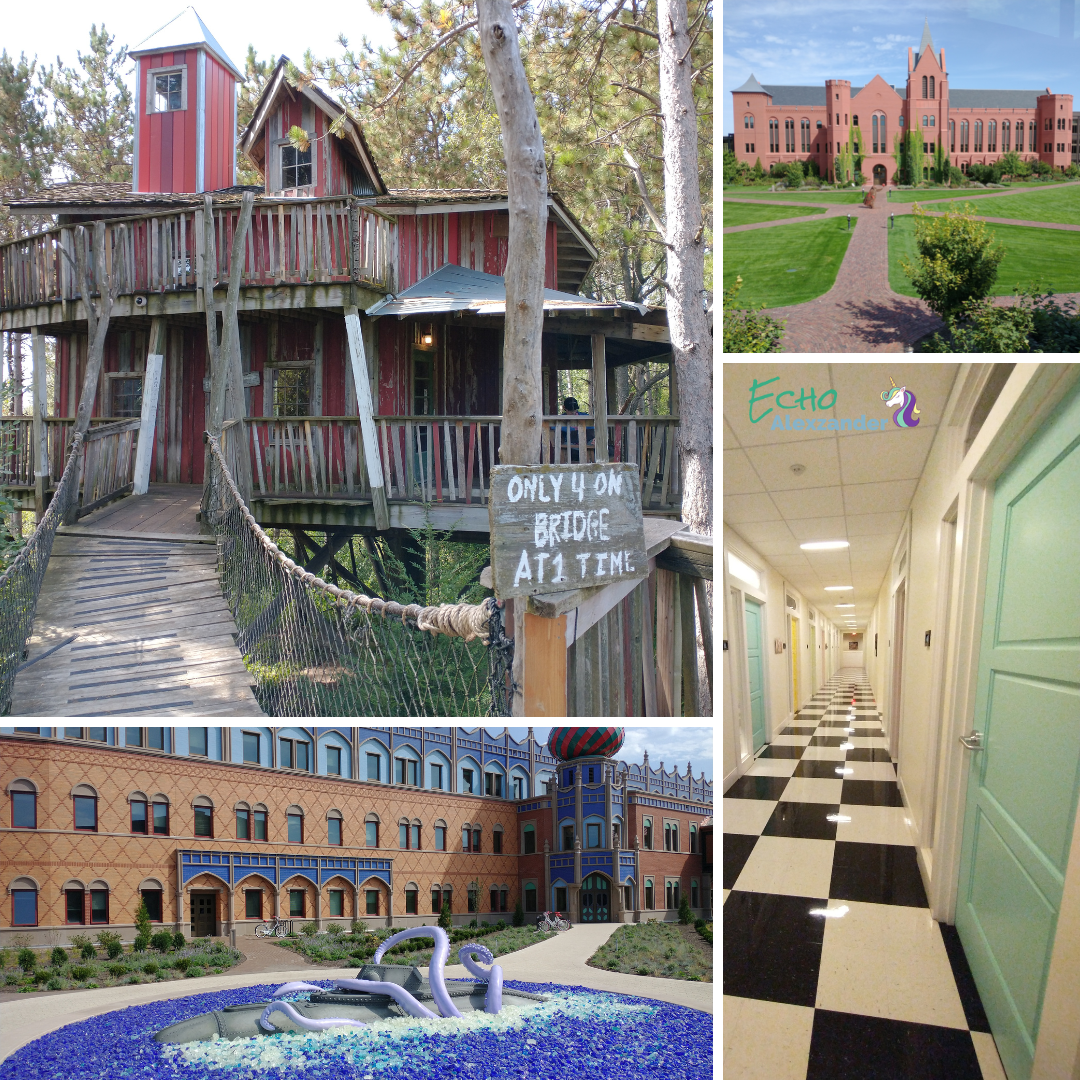 This midwest adventure campus isn't just for staff and customers, you can visit there too! Grab a sneak peek at the map, directions, parking, and more here. Despite the doors being unlocked and ready for you to come in and explore, there is no way to see it all in a day, or hardly in a week of being on-campus for training. They have over 28 buildings on its 1,048-acre campus! Each one has a different theme, design, and decor throughout. Each floor within the building is also different and will play into the larger overall theme.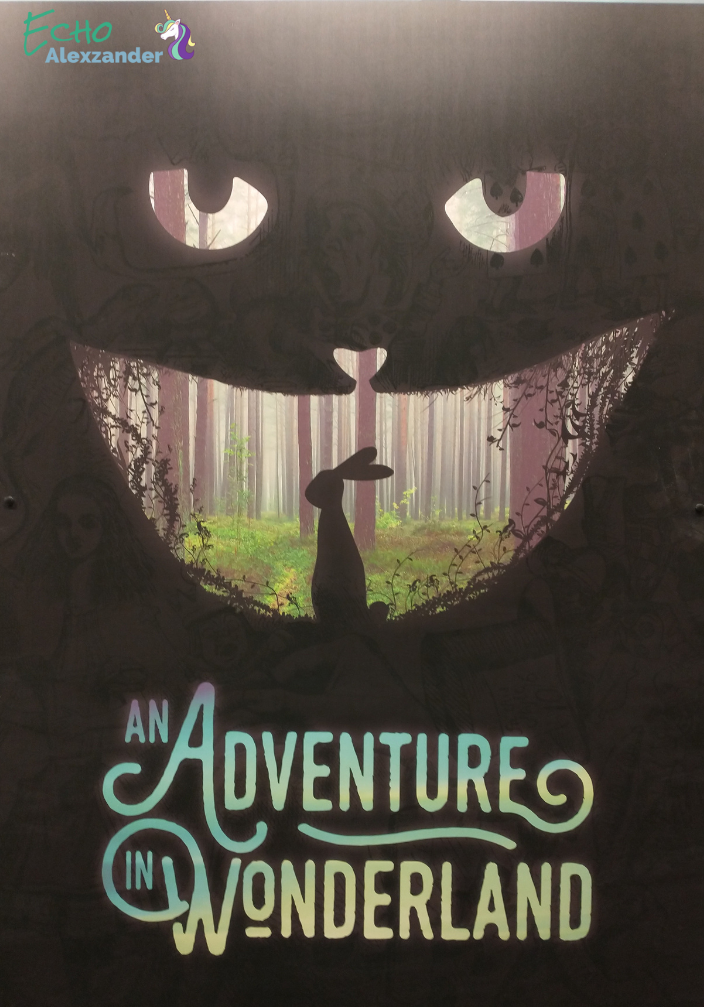 Think castles to Hogwarts, Gingerbread houses to barns, European cottages to tree forts, space to the Grand Canyon, ice caves to rustic cabins, and EVERYTHING in between! And their level of detail to those themes shows their commitment. From the nameplates on the rooms to the flooring, it is all involved.
Each of their annual customer gatherings also has its own fun themes and inspired art. This event poster pictured here speaks to me through my passion for adventure and seems to be fitting for this tale I am sharing about my time in the Epic wonderland...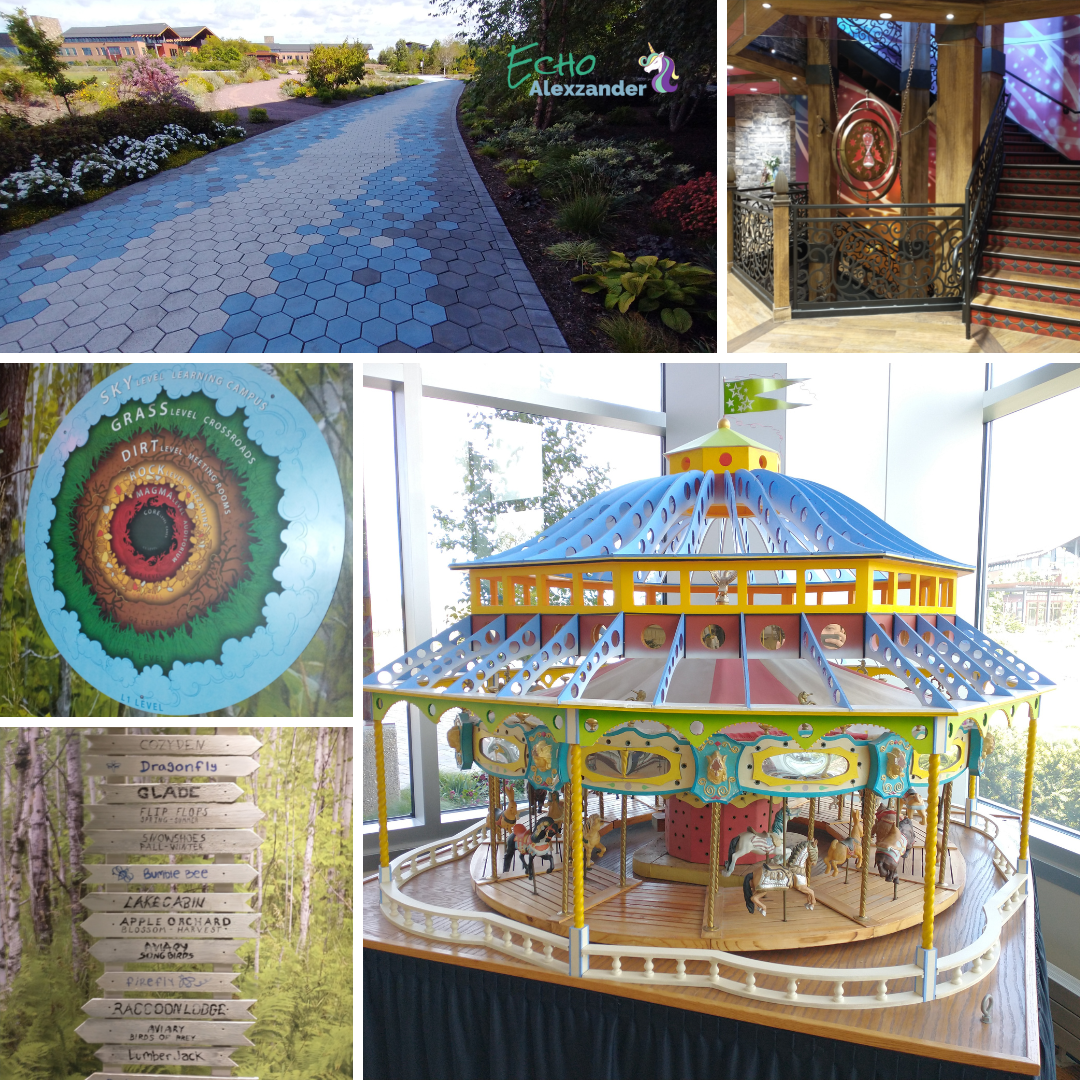 Fear not, when you visit this massive campus you won't have to walk the entire experience through their acreage, there are free bikes around to hop on and ride between buildings. Also due to the weather in the region, there are underground tunnels and above-ground sky bridges that connect the different pieces of the campus to help make it very walkable!
So what was my favorite part? It is so hard to pick!
Being there to experience it all in real life of course was a memory I will have forever (I've actually been three different times and each time I get to see new things). But if I had to pick one favorite aspect, it would be...
The Art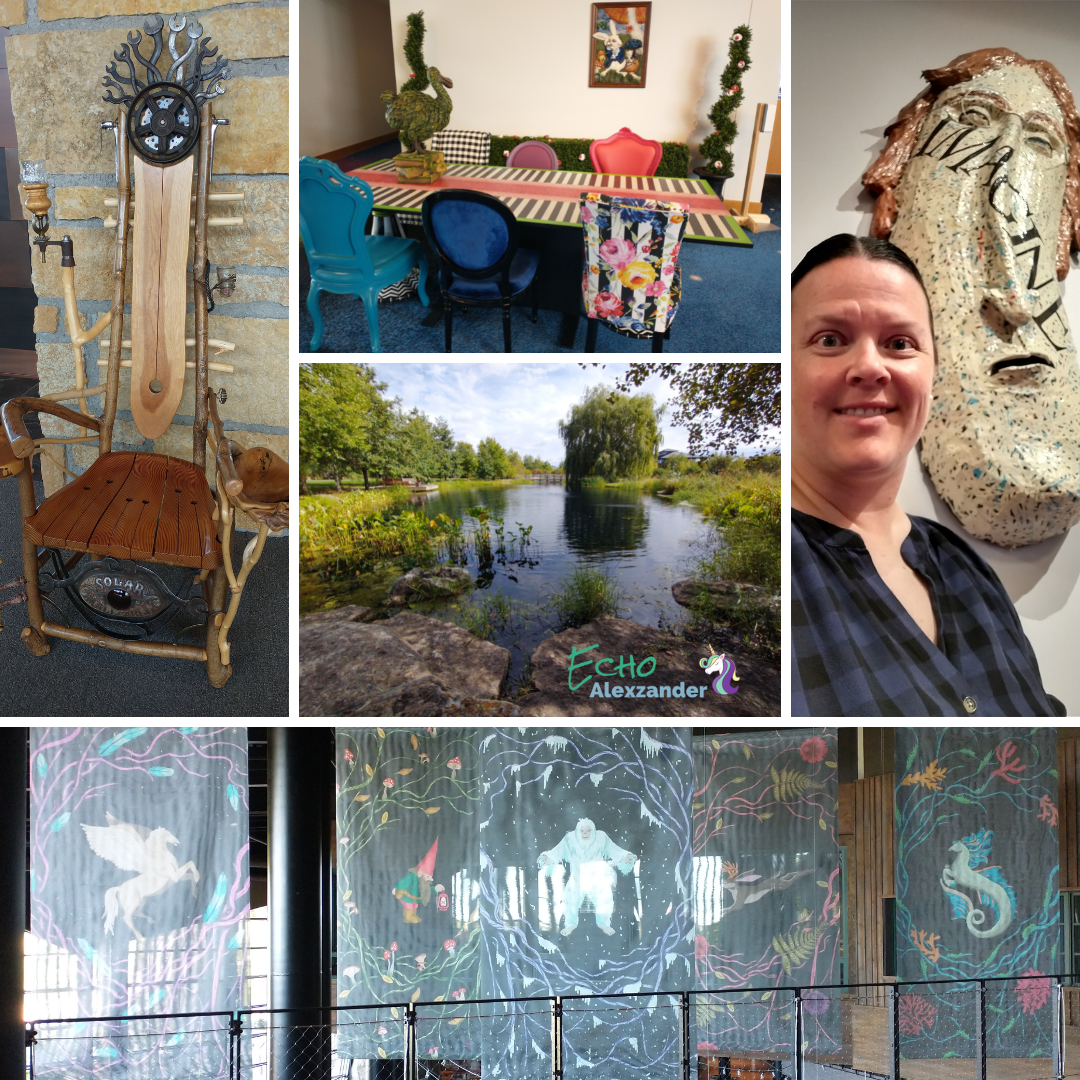 If I had to pick one thing of the many that really make this place so unique, it would have to be their incorporation of
one-of-a-kind art pieces
. As an artist myself, they impress me with how much they have brought into the decoration of each building, breezeway, and classroom. It's my understanding that their staff even gets an opportunity to pick out pieces to be included, how cool!
And of course, they have custom art creations that involve unicorns (see blog cover photo). It was from a dear friend and Epic colleague that I received my name of being called a unicorn and fell in love with them as my adventure creature ever since. Thank you Theresa for that gift.
How can it get any more epic you ask? I'll tell you next!
An Impact on Healthcare and Beyond
It's one thing to have a place where you can engage your employee-owners, developers, customers, and visitors in such a fun manner. But it's another thing to use your powers for good. From community to environmental impact, the 'Intergalactic Headquarters' as they call it does a lot of good! From social causes to giving back to their local communities, from staff paid sabbaticals to protecting the environment, they do a little of everything. Here is one example:
"The Epic campus features about 43 acres of green roofs, in addition to several ponds, bioswale and stormwater structures. The company also utilizes one of North America's largest geothermal systems that provides heating and cooling to the campus for significant energy savings."

Source
Well done Epic!
---
This wasn't all that I have from south-central Wisconsin. If you missed it, be sure to check out
Part 6
of this travel series,
One Night in Paoli
! Next up in
Part 7
will be
Iowa
and it is full of adventures, I promise! Coming soon...
If you had an unlimited budget and creative control, what would your fantasy corporate office facilities include? Comment below, I can't wait to hear your ideas!
---
Information courtesy of Echo Alexzander