Jul 28, 2020 11:02 PM Central
Echo Alexzander
Adventure, Adventure Life, Country Living, Faith, Family, Marriage, Northern Lights, Oregon, Outdoors, Space, The Great Adventure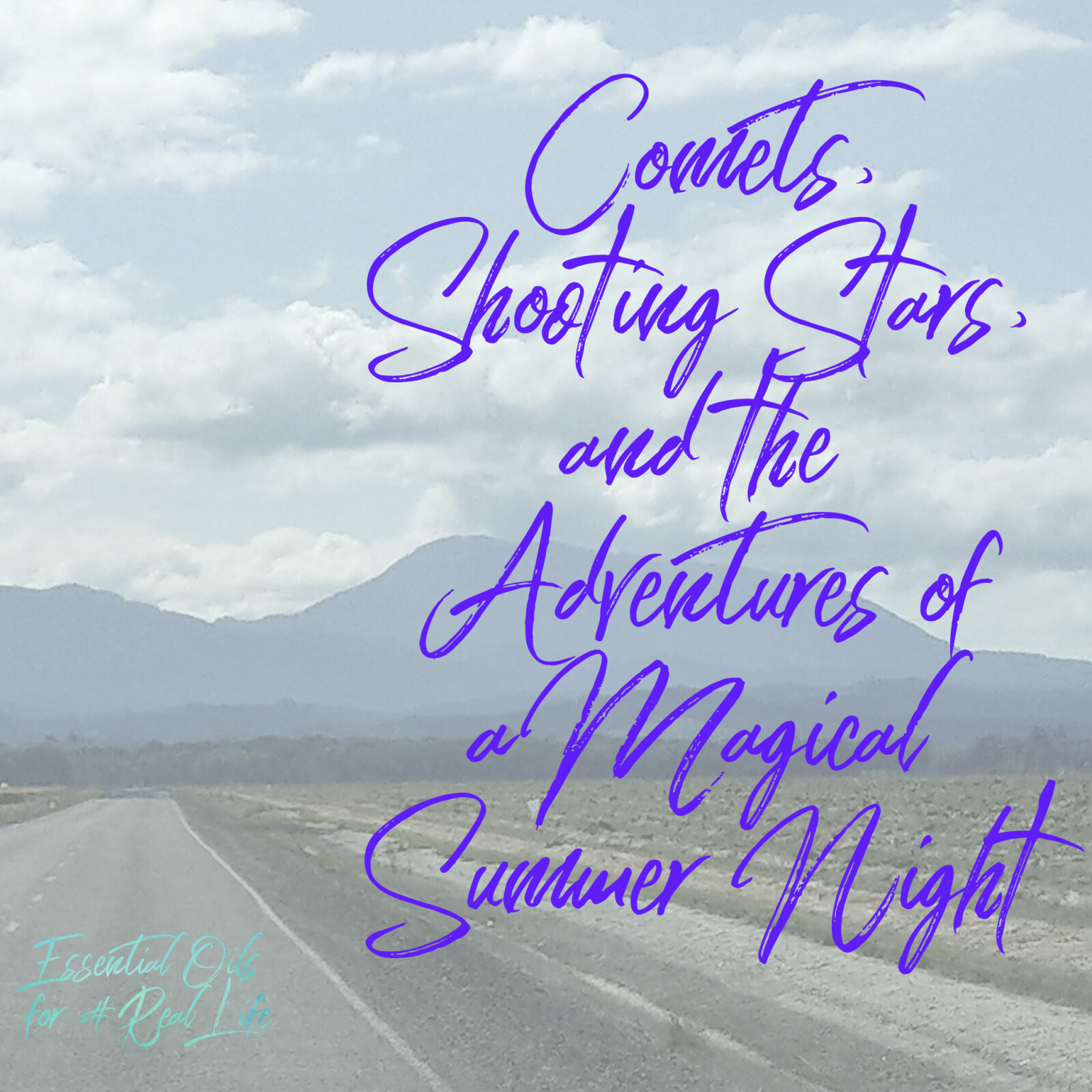 When Comet NEOWISE comes to town, you should take time to check it out right?!? Missed it? No sweat, it will be visible again from Earth around the year 8,786 🤯



This is probably the closest photo taken from near where we viewed it (less than 30 miles) over the
Fern Ridge Reservoir in Oregon
: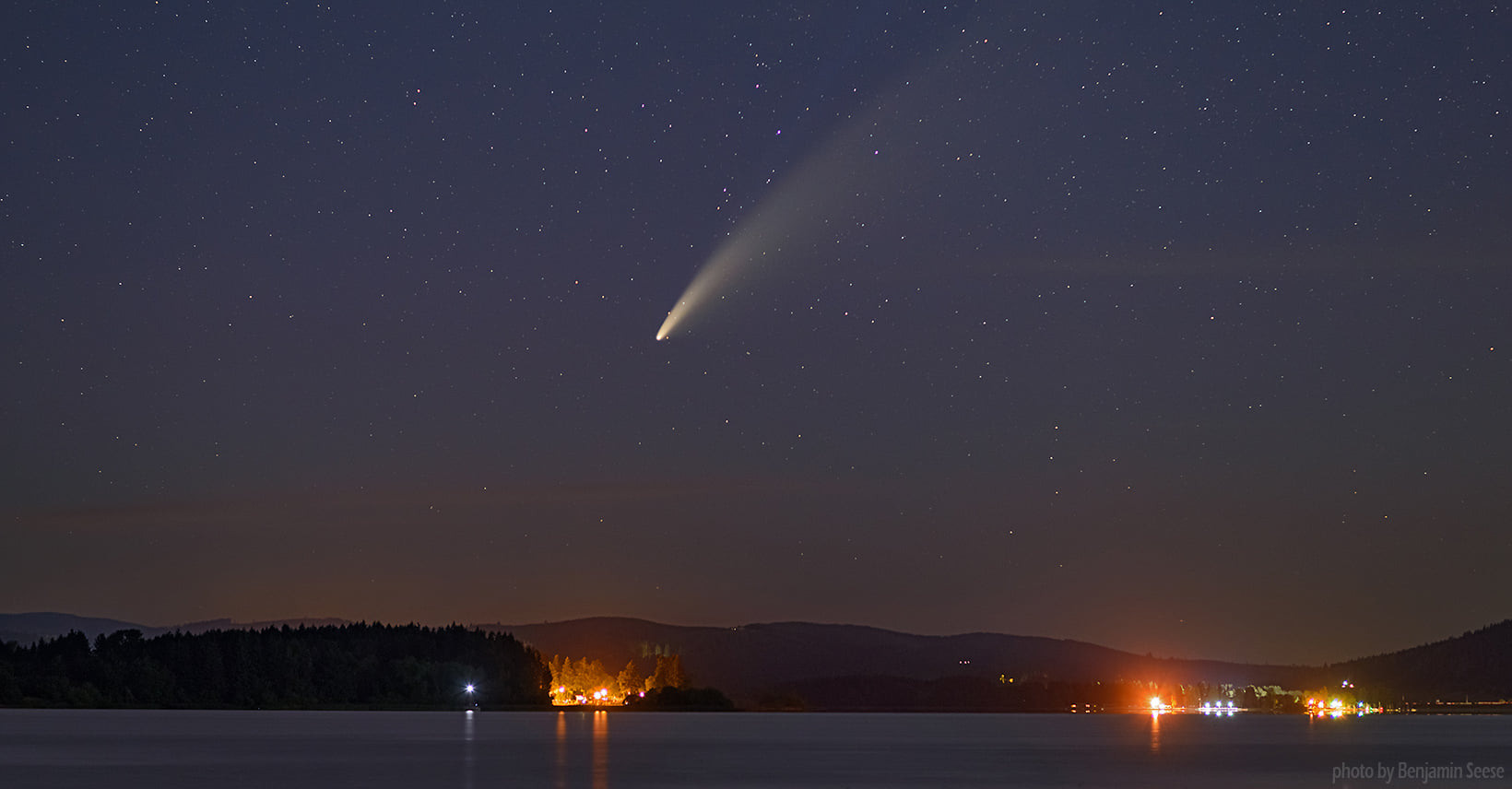 Sometimes, we just need to slow down and take time to look for the shooting stars. I of course and speaking that to myself, but can you relate?
A Night Out
Sometimes we all need to slow down, take a night out (those don't need to be contradictory concepts, you don't just have to stay at home to relax and recharge). The world is stressful and life can so easily be filled with so much busyness. So when I had an unexpected weekend home (aka away from the big city lights of San Antonio, Texas, back in Corvallis, Oregon), I knew that my husband and I needed to get outside and go star and comet gazing!

We are fortunate to live on the south end of our city with quick access to 'get out of town' and be in the rural Oregon countryside. In fact, it's our preferred route to travel, to the airport, to see family, and for anything else that takes us southbound. We headed out to the public road that leads into the local wildlife refuge and found a place to park safely alongside the road. We encountered a few other astrology fans out this way, so we knew we were in the right place.

My husband dug out his binoculars while I got my Nikon camera onto the tripod. We looked to the big dipper and knew the comet passing would be to the bottom left of it, to the west in the sky. I thought I saw its faint light and blurred tail with my bare eyes, but grabbed the binoculars to be sure. There it was,
Comet NEOWISE
! Wow, what a cool site to take in.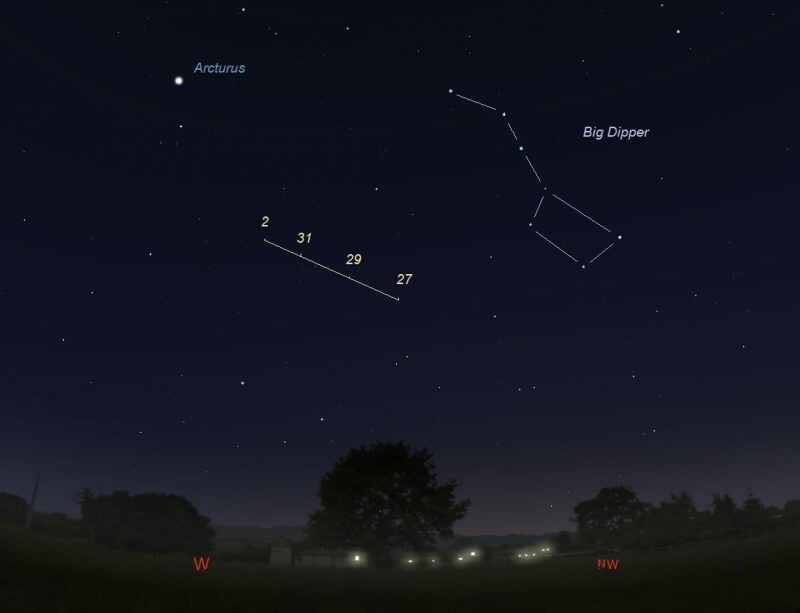 Did you get to see it live where you are? Tell me about it in the comments below.
The same
site
that the above image was courtesy of also has Comet NEOWISE and an aurora of Northern Lights from a shot in Canada. They also have a short video seeing it from the International Space Station (ISS). A cool side connection... did you know that
Young Living Essential Oils sent seeds and essential oils into space
in the last year for research on the ISS? #SayWhat?! How rad!

Seeing the Comet and the Northern Lights together in Canada would have been my 2020 astrological dream come true to catch those together. I am still so incredibly blessed having been able to dance with the lights this year, check out that blog here about my adventure to chase the Northern Lights!
Flashlights, Camera, Action!
Okay, now to try and get it on my camera. It was so incredibly faint (sorry, it was a wonderful binocular comet, not a 'great comet' as astrologers call them) and the moon rising was so bright, but we had to try! We played around with settings and exposures, timers, and zoom, but we didn't succeed. Even as the moon fell behind the coastal mountain range in front of us to bring us more darkness, we still couldn't pick it up.

It was such a beautiful evening. A slight chill in the late-night air. The light breeze blowing across the freshly cut hay fields and past us into the wetlands. The night sky dazzled with stars and satellites, planes that flashed as they passed. We saw a number of shooting stars. Some just a glimpse of their glimmer, others, a falling descent of light that gave us enough time to remember to make a wish.

What are you wishing for these days?

We were sure we had the comet in the frame, we checked and adjusted, rechecked, and tried again.
You will have to keep scrolling to see the magic that we captured!
Coming Home
Once we decided we had seen all we could see, we packed it up, wished our viewing friends the best, and headed back towards home. I remarked what a perfect night it was and my husband said, 'Then why don't I open the moonroof so that you can keep stargazing all the way home?' Brilliant.

I said the only thing we need now is a favorite country song and there was only one on my mind. "Back Where I Come From" by Kenny Chesney, specifically this version recorded live in Tennessee:



Reconnecting to Myself
This was my reconnection to myself. The place I had come from in the country. We currently live a short distance from where I grew up and this dusty road could have been behind our property it was so much the same as my hometown. The place where I would camp out on trampolines in sleeping bags to watch the stars like this. The place where they can bury me 'when it's said and done.'

As we listened on repeat, my head reclined on the chair and holding my husband's hand as we drove home, tears streamed down my face in gratitude for how fantastic this life is. Those same tears return now as I recount the experience.
I choose to participate in this adventurous life. To live my greatest life possible. It promises to be exciting!

Our world isn't perfect. Our lives right now may feel out of control and under such a challenge. Now maybe more than ever, I encourage each of us to return to the simplicity of things that we love. Perhaps we will find what we have been missing there. Family. God's splendor in his creation as He shows it off before us. The memories and good times, now, and those that we will look back on in our next time of trials.
My Adventure Life
This is my adventure life.

This is what it means to me to live my life to the fullest. Right here, right now, however I am able. While every Saturday night might not have back road excursions, I want to stay in this place of intention. The place of no regrets. The place where I am living my life of purpose, on mission, and with my Heavenly Father.

In my faith, I find myself able to live fully and love completely (though I often fall short of the action, it is possible for me to focus on). Because I am forgiven through the perfect sacrifice in Jesus Christ. Because my debts are paid and forgiven. I have nothing to prove, no guilt to define me, only my calling as His daughter. He designed each of us for this time, in this place, with our individualized calling to serve. We don't need a lifelong journey to know our purpose for this life, we were born with it, we just need to remember.

So let's go out, let's live our lives fully. Let's strive every day to love God, others, and the world. And let's never stop living His great adventure!
The Big Reveal... Okay, now for the big reveal of Comet NEOWISE as captured on Saturday, July 25th, 2020...
If the stars are made to worship, so will I. "Praise him, sun and moon; praise him, all you shining stars." Psalm 148:3
Did you enjoy this info? You'll LOVE our Adventures at Tamolitch Falls and Blue Pool on the McKenzie River Trail! Check it out right HERE.
This is another post in a series about Adventure for #RealLife.
Sign-up
to receive each of those delivered conveniently to your inbox!
---
Disclosure: This site contains affiliate links to a few select products I use, enjoy, or recommend. I may receive a small commission for purchases made through these links, and your purchase supports companies and products I believe in.
Information courtesy of Echo Alexzander