Nov 18, 2023 06:59 PM Central
Echo Alexzander
In my years of travel adventures, it took a lot of time and planning to discover all the best things to consider checking out on the next trip. From food to sites, history, and one-of-a-kind, it used to take a lot of time to compile all the must-do things for a new place.
It's time to try AI as your travel adventure co-pilot!
This is one of many posts in a series about
travel adventures
!
Sign up
to receive each new blog post delivered conveniently to your inbox when they arrive. #JustThatEasy
Have You Tried AI?
I know the answer is yes because the chances are you have shopped on Amazon, used services like Pandora, Spotify, or Nexflix, or used a chatbot for a customer service inquiry. Whether you realize it or not, you have likely been weighing in on decisions from AI without even realizing it for years!

In some ways, I have been an early adopter of the free and publically available generative AI that hit the internet in a big way around Christmas of 2022, or at least that is when I really saw it becoming available to nerds like me. #ProudNerd I dove into free AI tools like ChatGPT, image generation, and more and have never looked back. I tell my husband that I am going to use the technology powers for good until the robots try to take over the world. haha
But in all seriousness, I use it in so many areas of my daily life! I seek out generative AI support for anything I used to search out on Google. Garden planning, to business management tips, legal searches to history of a subject. It's the World Wide Web summarized into pretty reliable responses in a few seconds.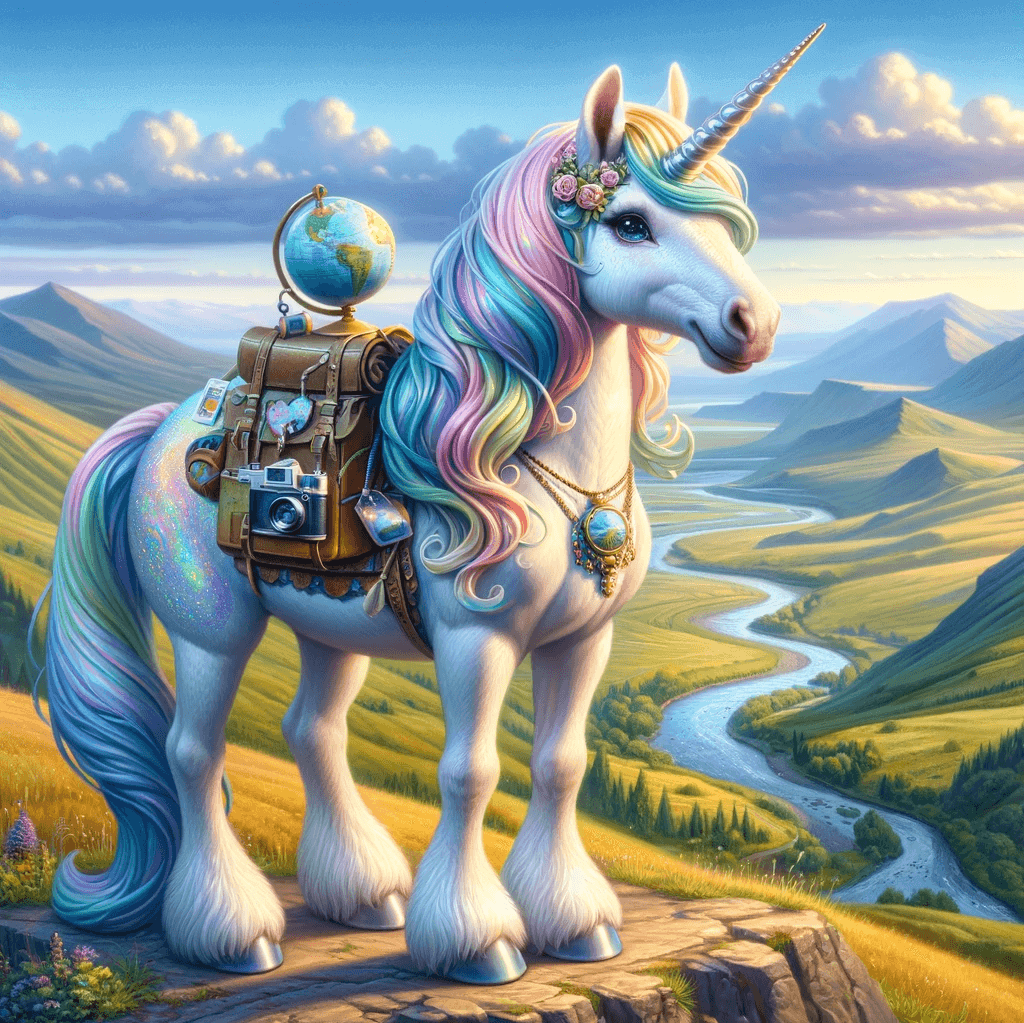 So saddle up traveling unicorns (yes that image was AI generated on DALL-E via ChatGPT), now it's time to take it for a spin for our travel adventure planning!
My Life as a Google Local Guide
I have shared my Adventures as a Google Guide and I have been a Google Maps user and official Guide for many years. I don't know if Local Guide Level 8 is good or not for an adventurer, but I have been to a few places. You can see my contributions through photos, business reviews, and the like here. You can even follow along if you are so inclined. Here are a few of them on the map: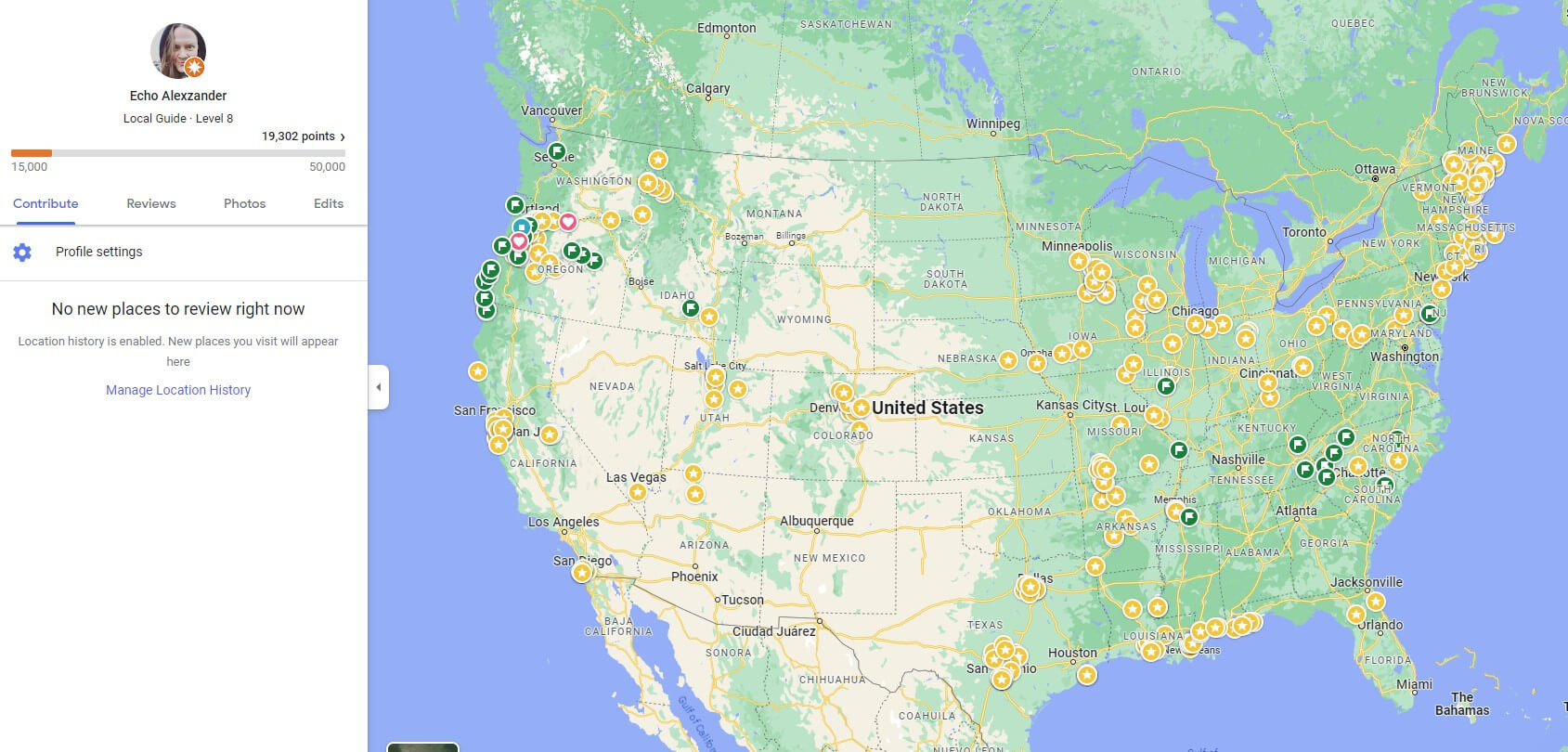 Now what in the magic formula changes with AI? Let's get into it!
Despite starting my generative AI journey with Open.AI and their ChatGPT, I have tried others including Bard from Google. Well, now you can use this conversational AI tool from Google as an extension for Google Maps.
So let's take my current work travel example. I am heading to North and South Carolina for work trips and need to start building lists of things to do and see. When you open Bard to start planning, you provide a prompt. This is what you would previously have entered in a Google search window. But think of it as a real person you are speaking to, in this case, a local travel guide expert.
Here's mine: "What are travel experiences to consider between Charlotte, North Carolina, and Florence, South Carolina? What should I see, do, eat, or experience in that region?"
Within seconds it returns to me a curated list of sites, photos, links, and choices by category! 🤯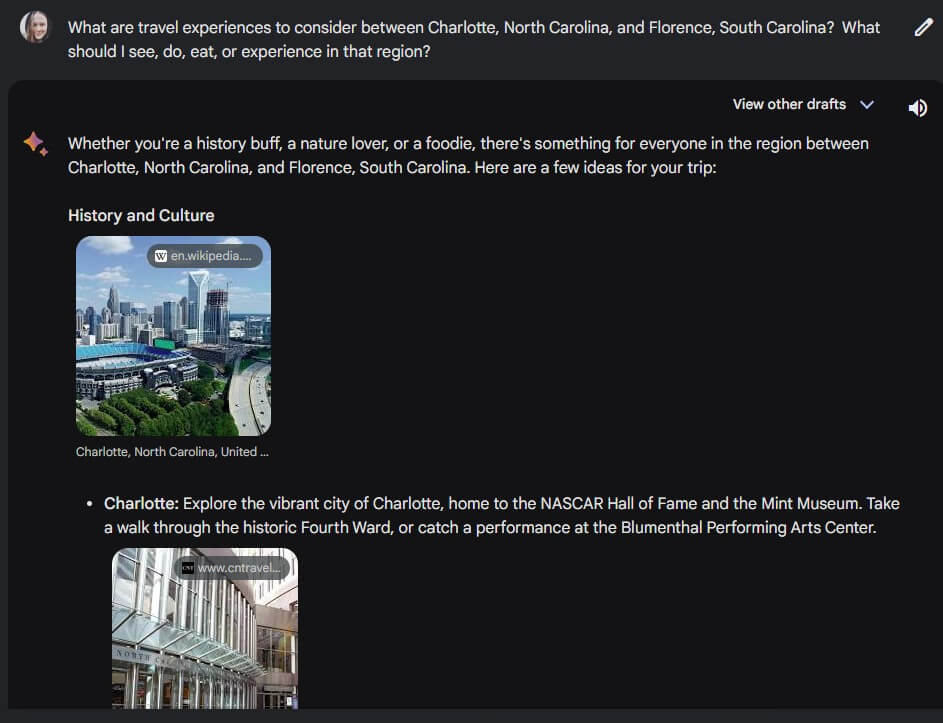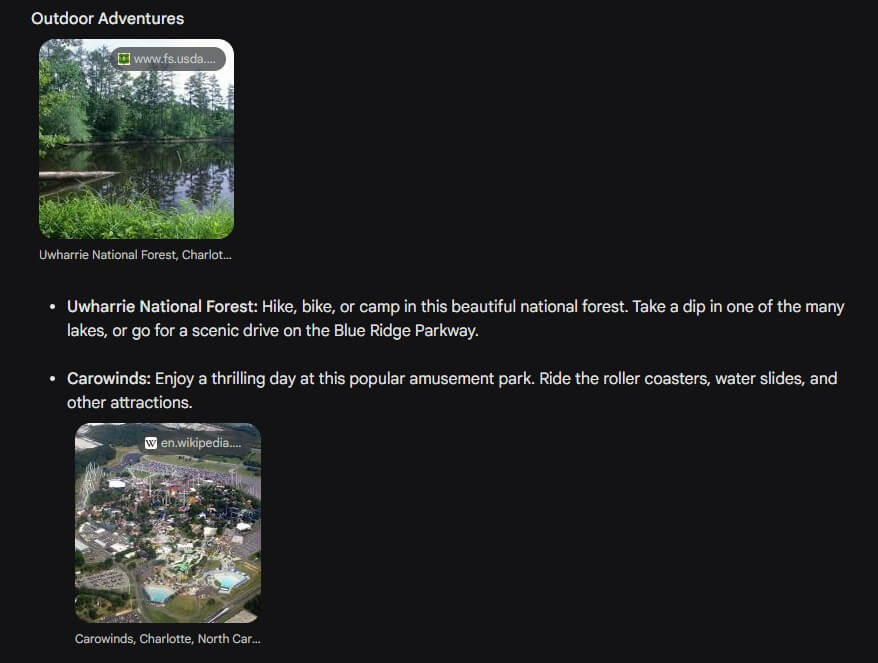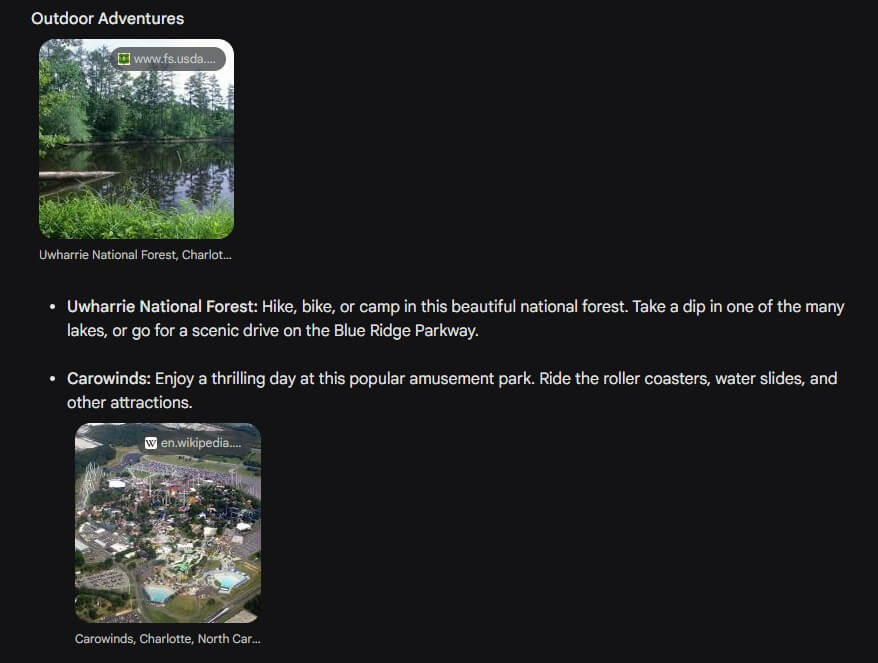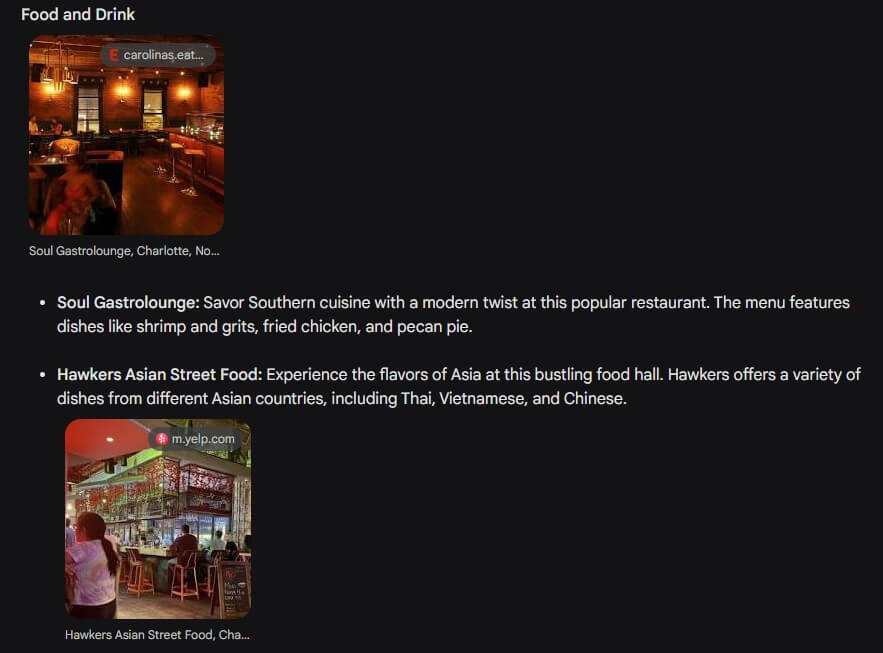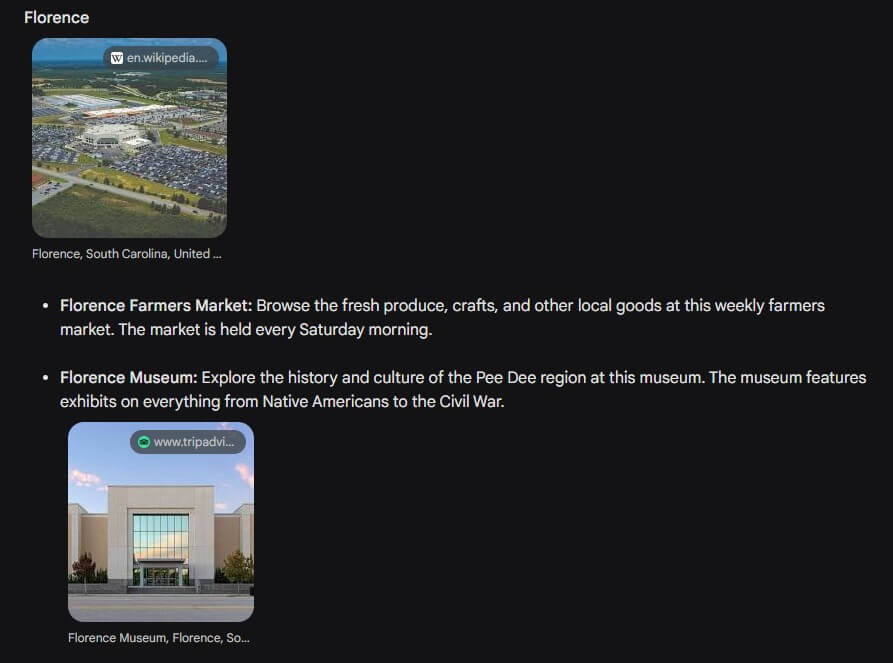 Isn't that rad?! And because it's conversational, you can now tailor it even more specifically now that you have seen the first responses. Let's say I want to now just target Florence, SC since that is where I will have more time to explore. Below is the next prompt that will follow along with what I have already been asking, but can be as different as I want as well.
P.S. You may hardly even notice the magic loading icon it goes so fast before the results are delivered:

The possibilities are endless for this free AI travel planning helper!
Get Started with AI Adventures
It's your turn! I can't wait to hear back if you are new to AI and give this a try. If you run into any snags or need help, just reach out. I would be happy to offer you my tech AI unicorn brain to help get you going. Here I am, complete with the little Google Maps stars and flags from my map above and with my favorite purples and greens. Echo the Tech Adventurer Unicorn?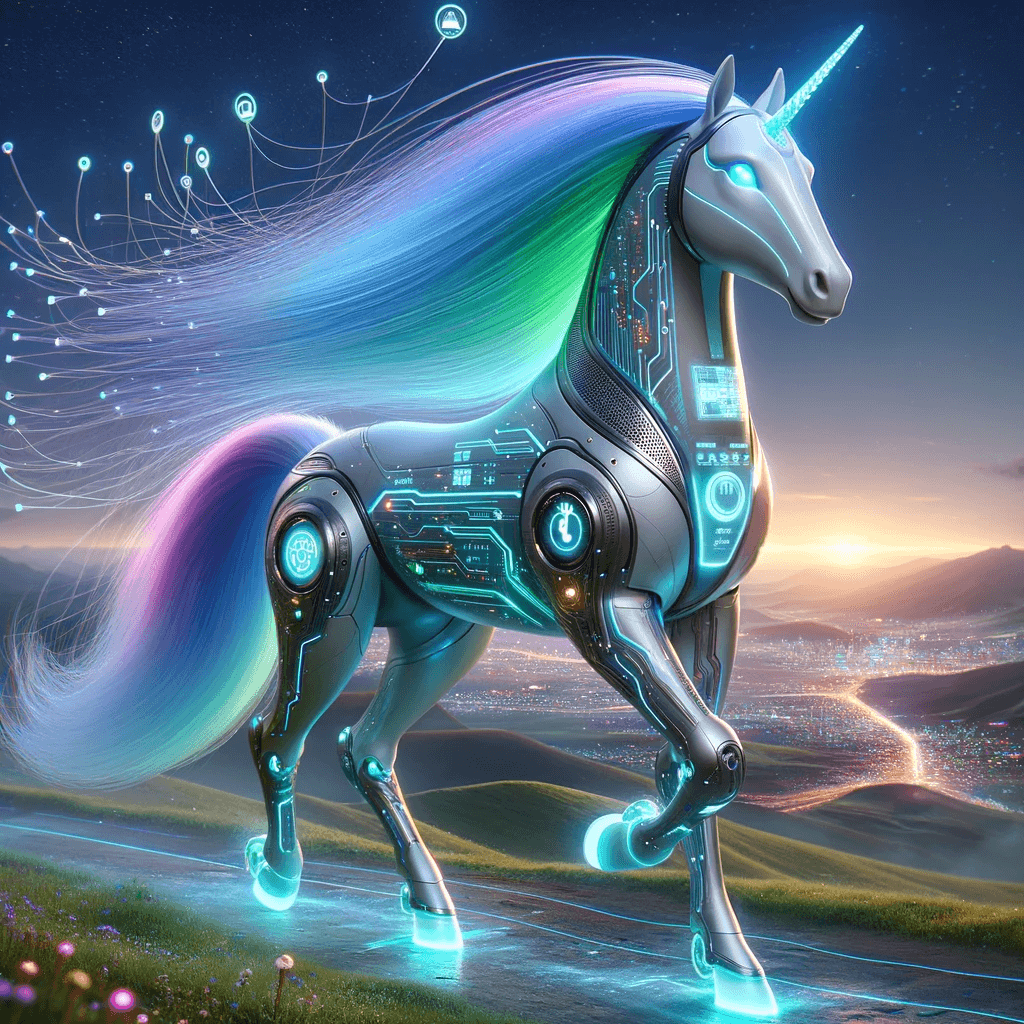 So what adventure travel might you want to use an AI side-kick to help you plan?
---
Information courtesy of Echo Alexzander