02/15/2021 07:00 AM Central
Echo Alexzander
We have been on a journey to explore the impacts of the small business collapse that began in 2020. In part 3 of this series, we will review the costs to our nation and communities (macros and micro), and ask where we can go from here.
This has been a tough story to tell as the co-owner of one of the devastated 'Mom and Pop' businesses, but we know the information needs to be shared so that Americans never allow this behavior to be tolerated again.
This is the third in a three-part series.

Sign-up

to receive each new entrepreneurial-themed blog post delivered conveniently to your inbox when they arrive!
DISCLAIMER: This is a real-life example of one family-owned small-business in the service sector in Oregon, USA. The details shared here are to help educate the public and provide an inside look to those who may be far removed from these realities.
The National Cost
In
part 1
of the series, we reviewed the financial costs and the joke that was failed federal, state, and county-level emergency funding and support for businesses that were deemed by their government non-essential, or worse, made illegal to operate like ours.
Part 2
gave a glimpse into the mental health impacts and prices paid by devastated business owners trying to survive and save their life long dream and passion.
As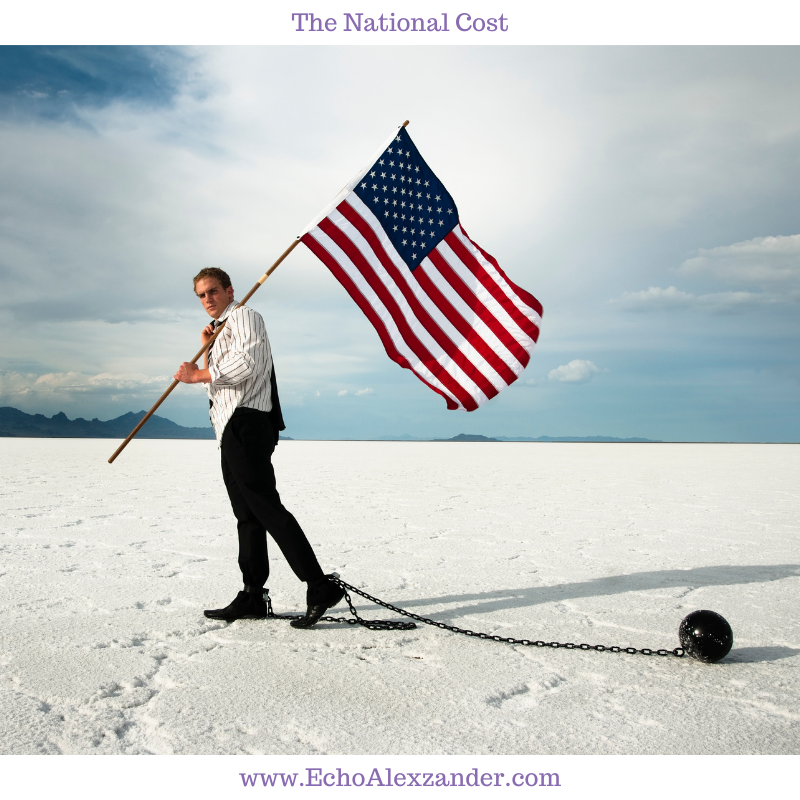 you drive down your main street, through downtown or the historic districts, you likely can't help but see boarded-up businesses, commercial for rent or for lease signs, or just dark vacant windows where a bustling business once operated.
What do those businesses and numbers mean to local communities?
In our instance, we not only closed our business in our community, but we were forced to leave the state and seek refuge in a state that would allow our business to operate unrestricted. So beyond our personal taxes locally (Federal and State income), our personal spending in our communities, and our business taxes (Federal, State, Payroll, and Property), what else did our community lose?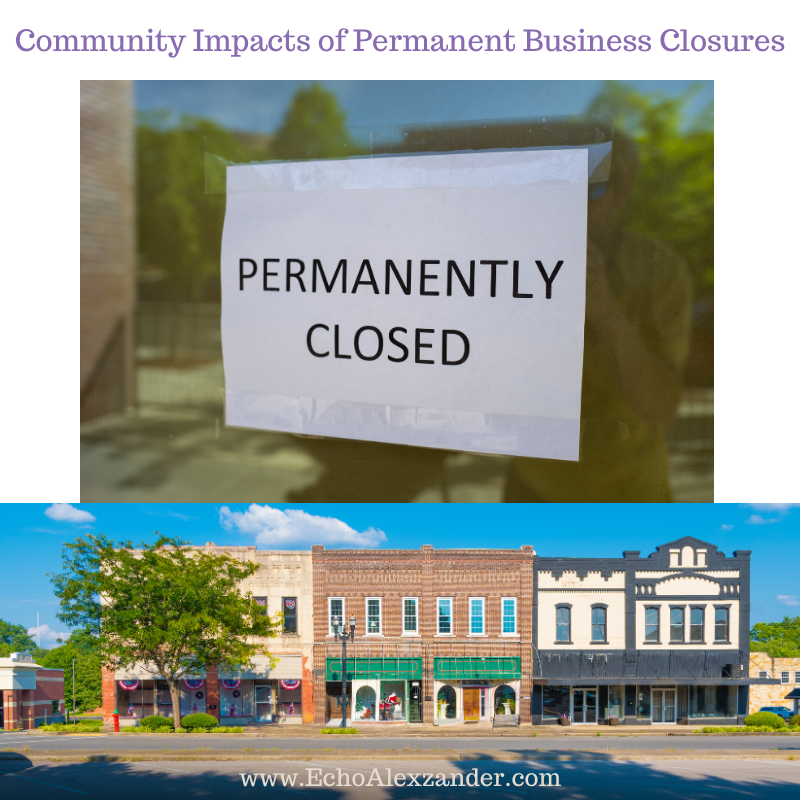 I compiled the best list I could of where our business was involved in our community over the years (the first portion is not including personal charitable donations and volunteer work).
FIRST Corvallis Business Give-backs
(these were a choice we made and were done because this is how we can serve those who serve us)
50% discount for Police, Fire, and Military (active and retired), including spouses

25% discount for students (all ages, primary and college levels)

Discounted sessions for minors
Business Donations and Charities Financially Supported
(time and massage gift certificate donations are not tax-deductible due to them being in-kind labor in the service industry and not tangible goods; apologies if any were forgotten or left-out)
ABC House - auction table sponsor, 5k run free massage booth donation, and other events

Albany Public Schools Foundation - auction donations

Assistance League - Winters Eve silent auction annual donor

Benton 4-H

- auction donations

Best in the West Events -

free massage booth donation

for 5ks and other events

Boys & Girls Club, Corvallis, and Greater Santiam chapters

CARDV

- auction gift certificate donations, diffusers and essential oils donated for victims and center staff

CASA

CEC Sage Garden

Chintimini Wildlife Center

Corvallis High School - Mr/Ms. Spartan program

Crescent Valley - Raiders baseball

Family Tree Relief Nursery

Focus on the Family - silent auction

Friendsgiving

Furniture Share - Table sponsor, BBQ Fundraiser event coordinator and day of volunteer, silent auction donor, charity run team participant, and other donations

Heartland Humane Society

HP 5k Charity Run

Jackson Street Youth Shelter

Kings Valley Charter School

- silent auction donor

Mudslinger Events

- onsite event time donation for multiple annual races, 50k, 5ks, and other events

Old Mill Center

- silent auction annual donor

OSU Intermural Clubs - Rugby, Cycling Club, Running Club, Tri Club, Vet Med, and Student Veterans Association

Red Cross - blood drive host (quarterly events 2016-2019)

Rotary

Safe Haven Humane Society

- silent auction annual donor

Santiam Christian - silent auction annual donor

Special Olympics - Polar Plunge

The Arts Center

- silent auction annual donor

United Way - Day of Caring annual team participation

Zonta
Business Memberships/Participation
Chamber of Commerce paid member

Corvallis NBG

Corvallis Young Pros

Downtown Corvallis Association

Leadership Corvallis - Class of 2019

Millions of Women Strong (founding Chapter member and co-Chair)

The Micro Community Impact
What about where we personally as business owners and involved citizens volunteered our time, talent, and treasures? Let's look at some of those next.
Volunteer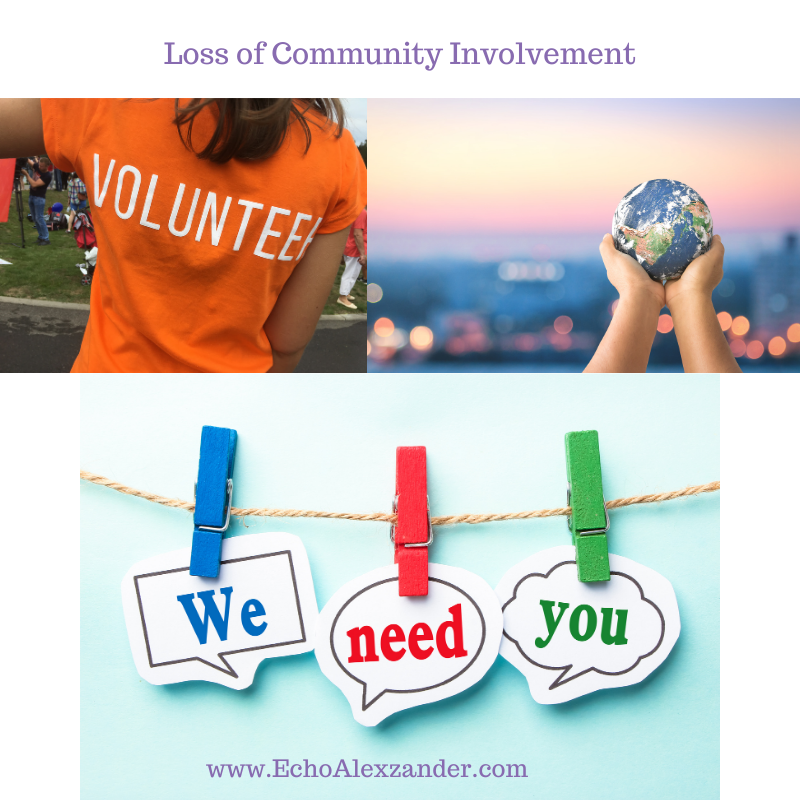 Buy Local First Corvallis

Chamber of Commerce, Independent Business Committee co-Chair
CIBA
Corvallis School District wellness committee

Lighten Up Samaritan

Lincoln Elementary wellness committee

Love Inc.

Santiam Christian High School track coach

Stone Soup Corvallis - soup kitchen

monthly volunteer
United Way Day of Caring
Local Food Web Involvement
Farm food share CSA

- Rainshine Farm and

Denison

Farm

Corvallis Farmers Market

First Alternative Co-op - member-owner

Food Co-op Shareholder/Owners
Did any on that list surprise you? Did you think of those levels of impact that a single business with two involved co-owners could have on their community? Now, what is the multiplier effect when you extrapolate that out citywide? County and statewide? For our nation?
The Climate of Small Business Attack
That isn't how I would like to title my segment on rebuilding small businesses in America, but it feels like the current culture we as small business owners are fighting to survive in. Surely there must be hope on the horizon, right?

Beyond the obvious issue of Walmart, Home Depot, and Costco being essential and small businesses not, what has the US political and financial climate become for businesses to rebuild themselves in?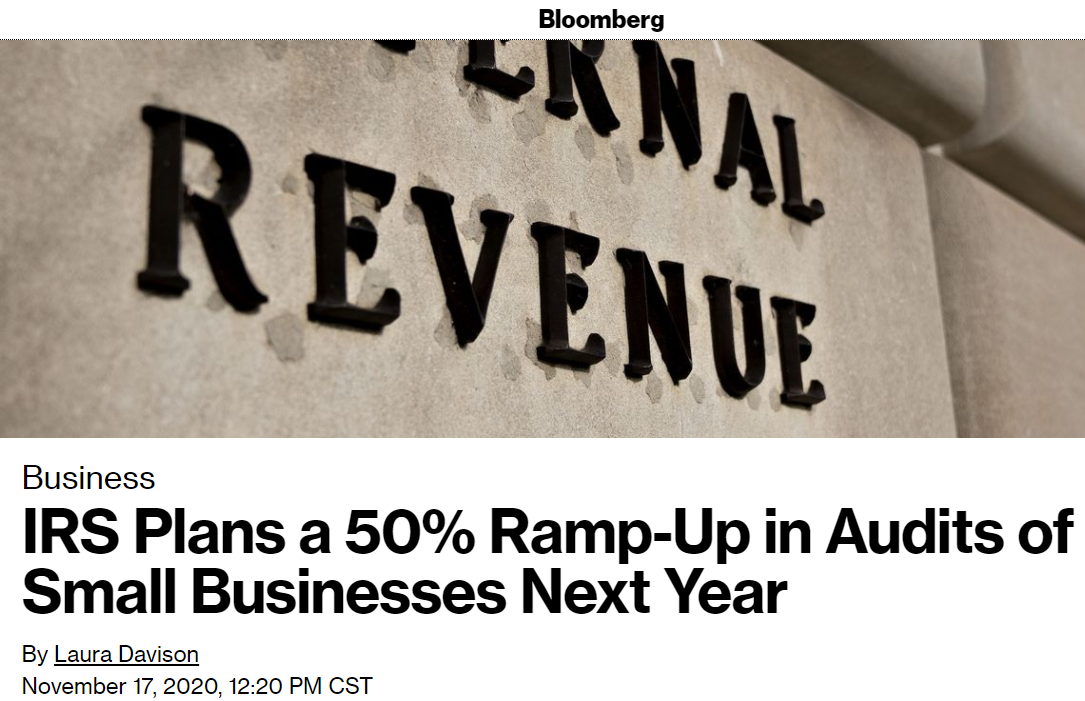 Why are these being targeted by the IRS? Is this really where there are the most impactful corruption or fraud concerns or are these the ones not involving any important wealthy people, politicians, etc.?
When this article was discussed on a
Facebook page
I follow at the end of 2020, I expressed
my outrage at this insanity
and was reminded by another discussion participant that this is how communism starts,
the loss of private sector business ownership
.
What do you think?
How did Oregon close out 2020 for small businesses?
An
increase in taxes
targeted on small businesses. They shared
"According to the Oregon Employment Department, about 124,000 businesses will see their unemployment insurance tax rates go up for 2021, about 85% of all businesses in the state."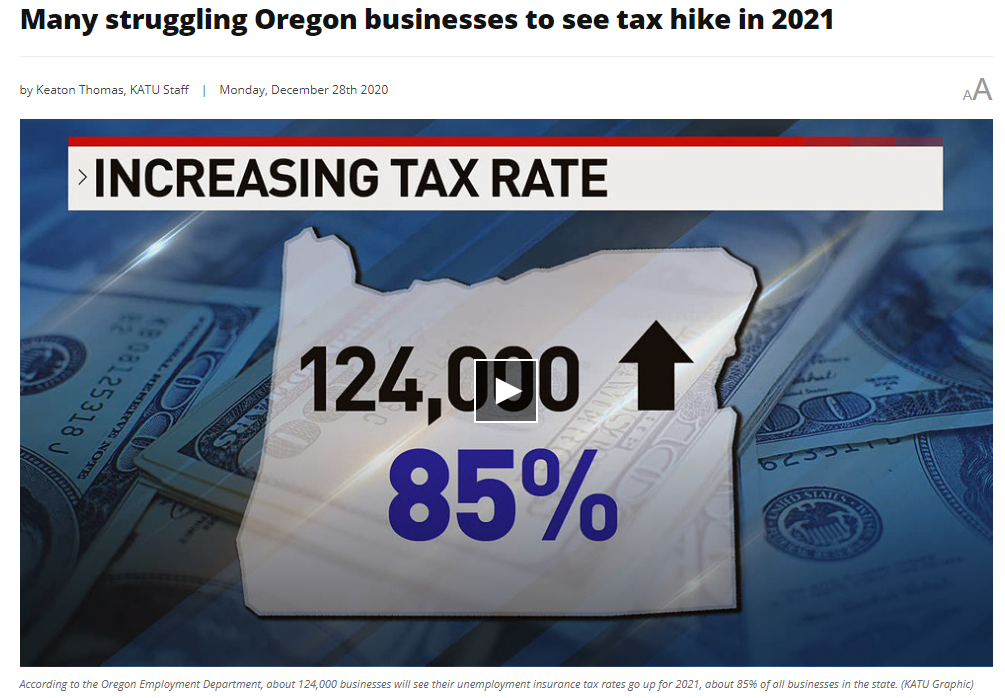 How can this strategy be beneficial to rebuilding? I'll help answer that one, it isn't.
Community Understanding
I think if more Americans understand these impacts, how these closures affect all of us, and how we can make changes in the future, we will be collectively better off. Why do I know we aren't yet there? Because of how one of our own long-standing customers responded to our situation.
By and large, the customer responses to the closure announcement of our business were of their overwhelming love, support, understanding, and empathy.
However, there were others that pointed to where we had clearly been responsible for this business failure based on our personal choices and not working hard enough, or long enough. Sadly she felt the need to reach out to us and place blame in this way: "Running a small business is a challenge. It is 24/7 - hardly a day off - especially for the first years. From your postings, I know you two like to take trips and being away from your business like that is fatal to any kind of growth."

No. No business should run your life. Of course, there are likely to be seasons of hustle and long hours as an entrepreneur, but life is too short and precious to live this way 24/7 after eight years. This isn't healthy or sustainable. There are ways to succeed in business and as an entrepreneur and I promise this isn't it.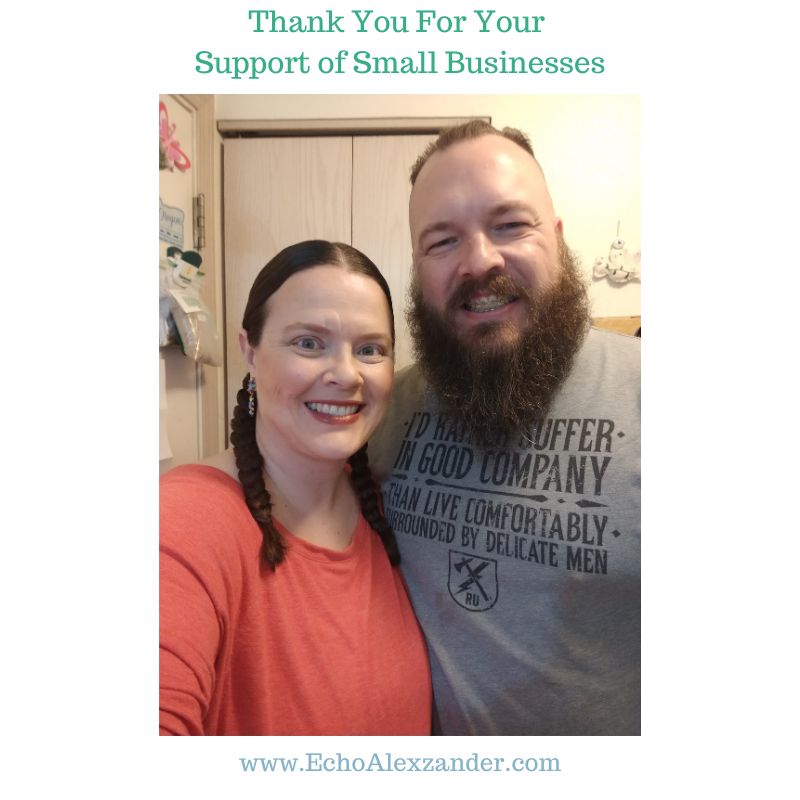 No friends, this was not the issue.
In fact, it's sad this email made no mention that there could be a health challenge or government-imposed crisis impacting our economy.
That they believed their assumption about our personal lives would be our business demise is sad.
Keep shopping small and buying local first
(check out
PublicSq
).
Continue cheering for small businesses and thanking them when they sponsor your auction or local charity.
Let's come together and find solutions. Let's be a part of the change we want in our nation.
I would love to hear your thoughts on this series. Comment below and let me know!
---
2023 Story Update - In a tale of redemption that only God could author, read the story of what happened after our small business collapse in my book collaboration project. Homesick: Finding Home Wherever You Are shares our loss, move, and story of rebuilding in 2021 and 2022. Now available in paperback and ebook!
---
Information courtesy of Echo Alexzander