Jun 19, 2022 07:56 PM Central
Echo Alexzander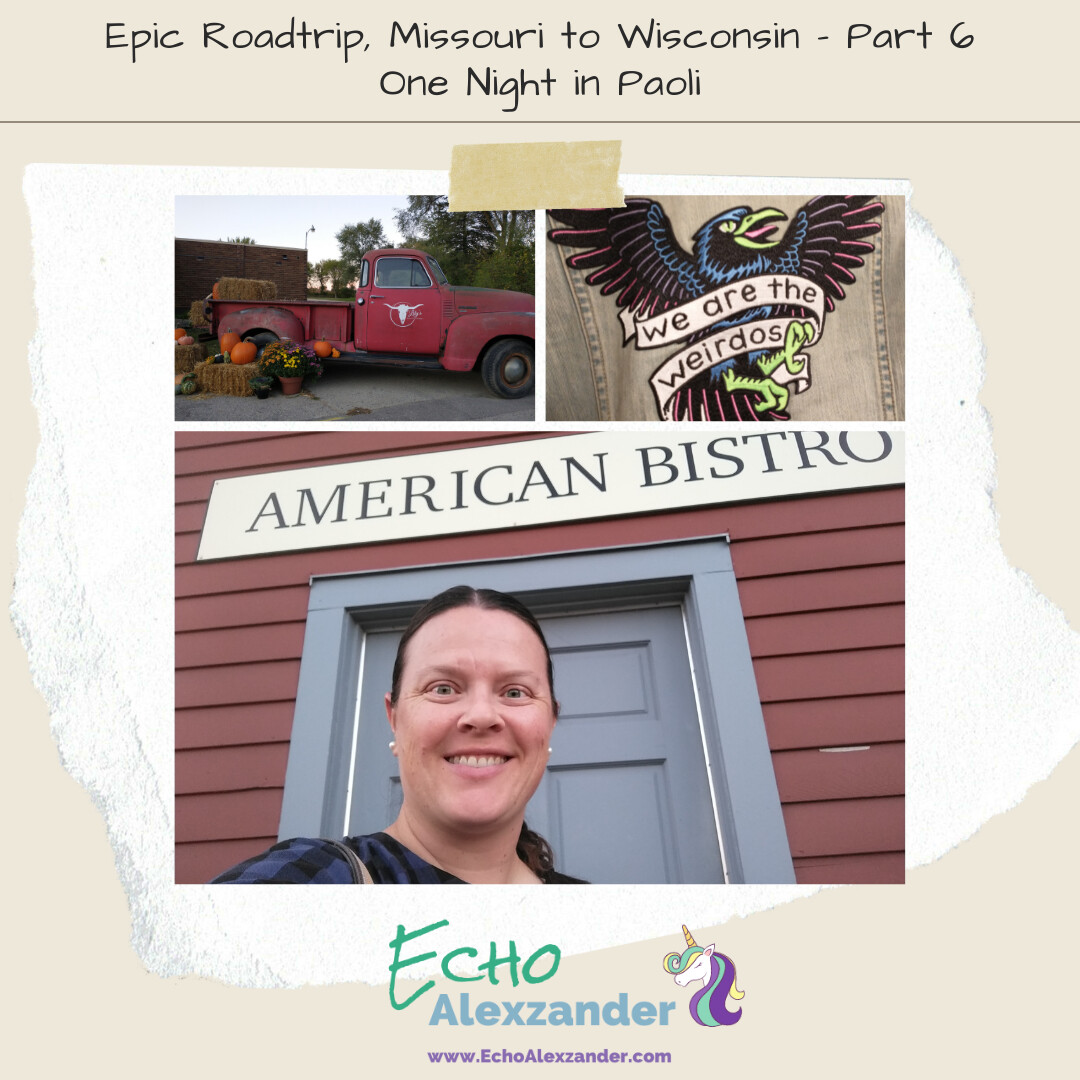 What IS the correct way to say it? Is it Pay-o-lee. Or is it Pay-o-lie? Or is it something else?! Help an adventurer out!
They seem to have everything you need here except a gas station. So much fun and adventure in a small town less than thirty minutes from downtown Madison, it's a must-visit.
Make sure you never miss out on a
travel adventure for #reallife post,

sign-up

to receive them delivered conveniently to your inbox!
#JustThatEasy
If you didn't see the adventures at Devil's Lake State Park, check out
Part 5 of this series here
.
Farm to Table Foodie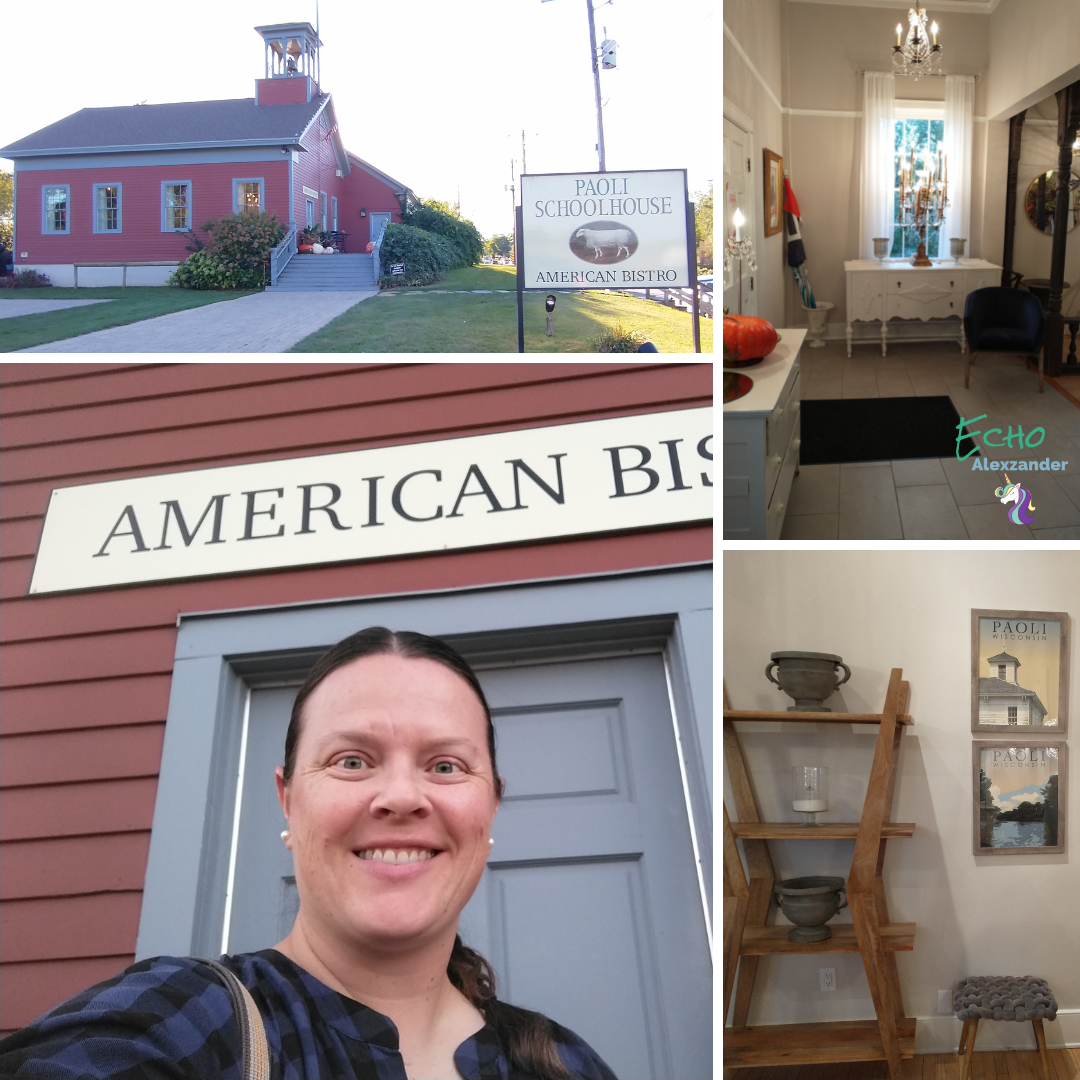 I've traveled coast to coast and sought out 'farm to table' restaurants and dining experiences, and I can say with confidence the best ones often are found in small towns! For instance, in Maine, I would argue that
Primo
is as good as any in the entire state and it's in the small coastal town of Rockland. I
got my first taste there in 2014
and am remiss that I didn't dine with them more often.
In Wisconsin, I highly recommend the
Paoli Schoolhouse American Bistro
. As you can imagine, they are housed in a beautifully restored historic schoolhouse building where they now offer fine dining with both indoor and outdoor seating.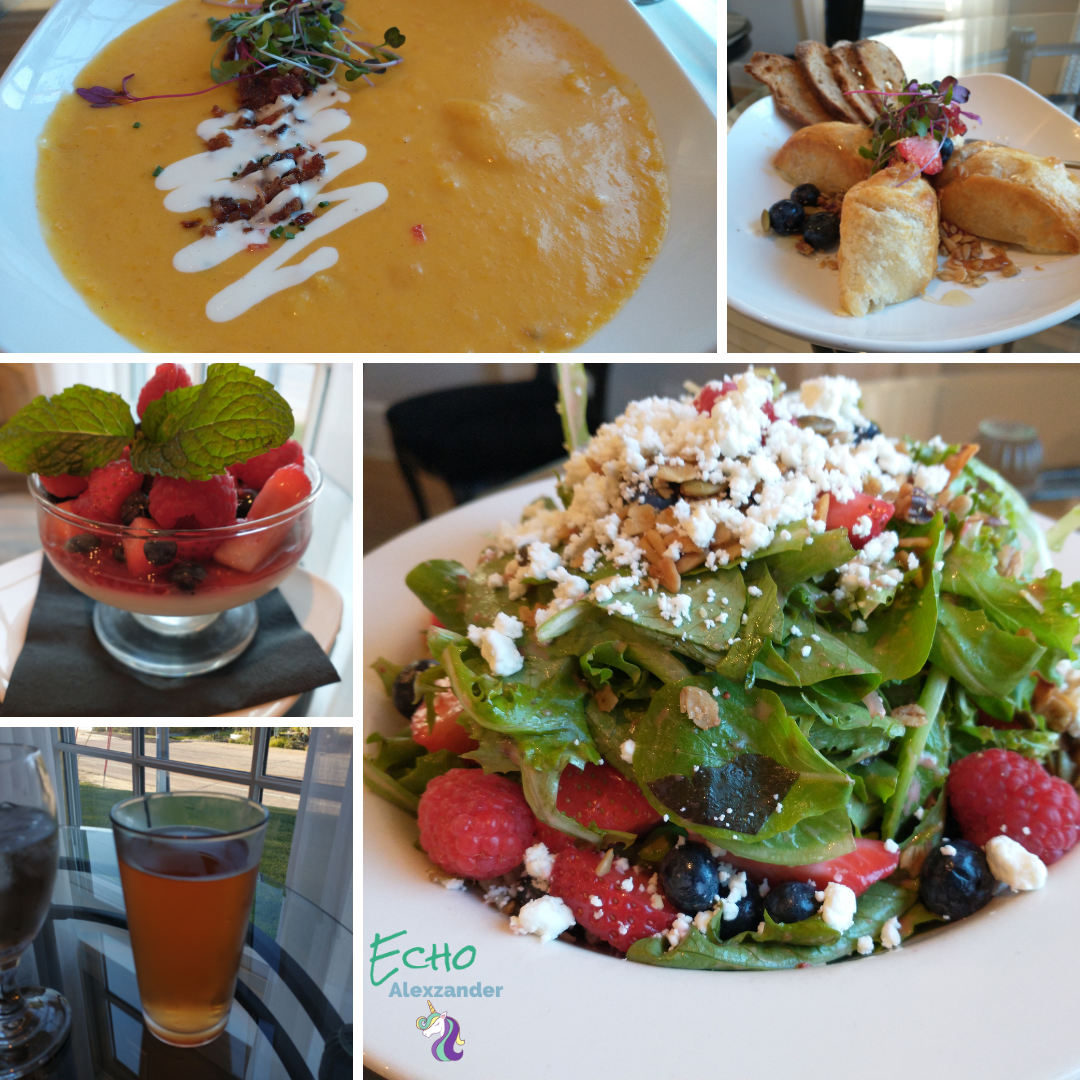 I enjoyed their puff pastry baked brie starter and a seasonal salad packed full of fruits and nuts. Continue into a fresh-made butternut squash soup and more incredible fruit for dessert.
Sipping a hard cider felt like
the perfect welcome to fall!
Next up it was time to explore and see what the live music in the park was about.
Paoli Mill Terrace & Park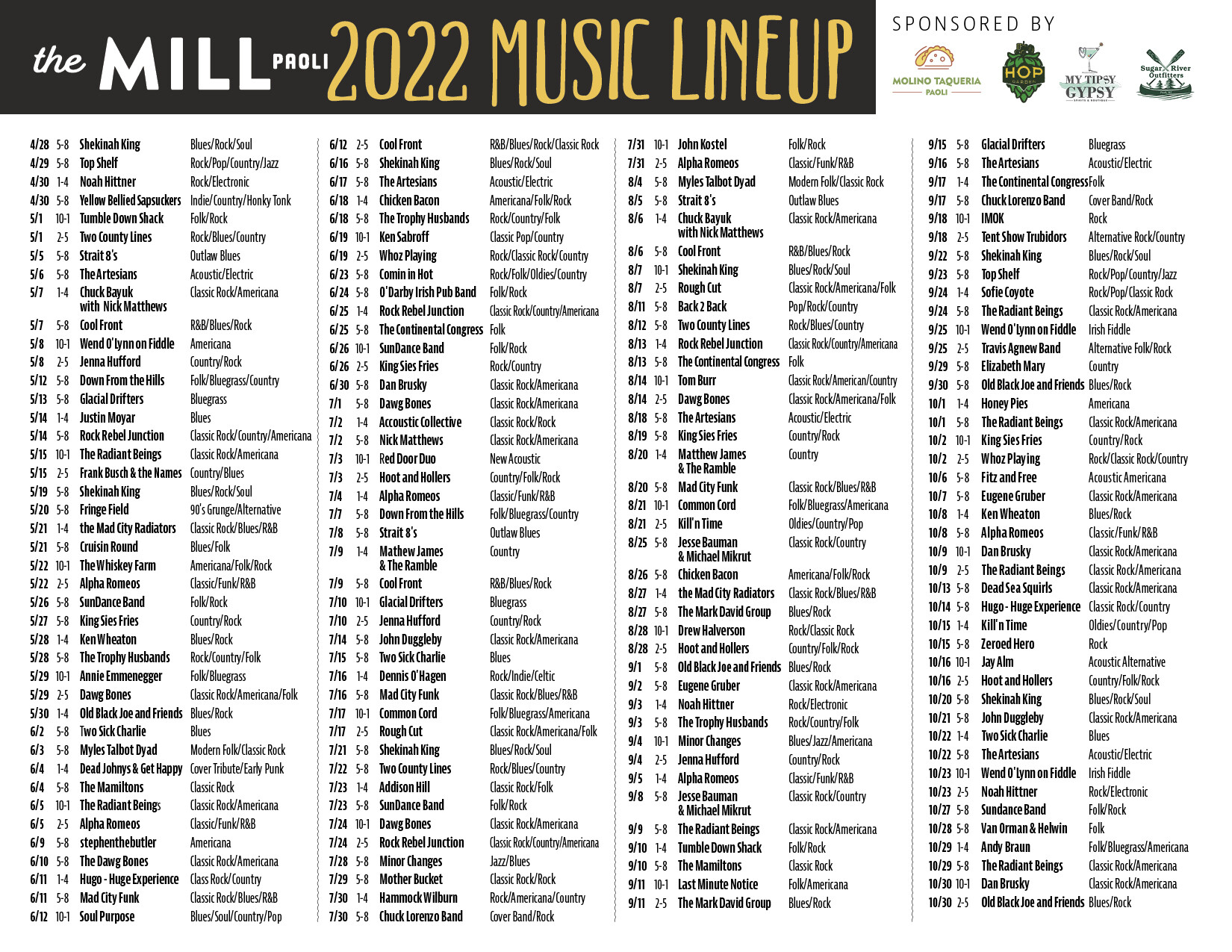 I'm not sure if I have seen more frequent offerings of live music in the park and near the water than here in Paoli!
If you think I am exaggerating, here is a sample of their 2022 offerings:
Since the drive out through the farm fields is so lovely, it would be worth the trip just to have dinner and listen to the music. Seeing the corn growing in the summer or adding a pumpkin patch stop would make it even better
Check out the
DiscoverPaoli
page on the socials for event updates, schedules, and larger happenings too. Think Fall Festival, Chili Festival, Farmers Markets, and so much more!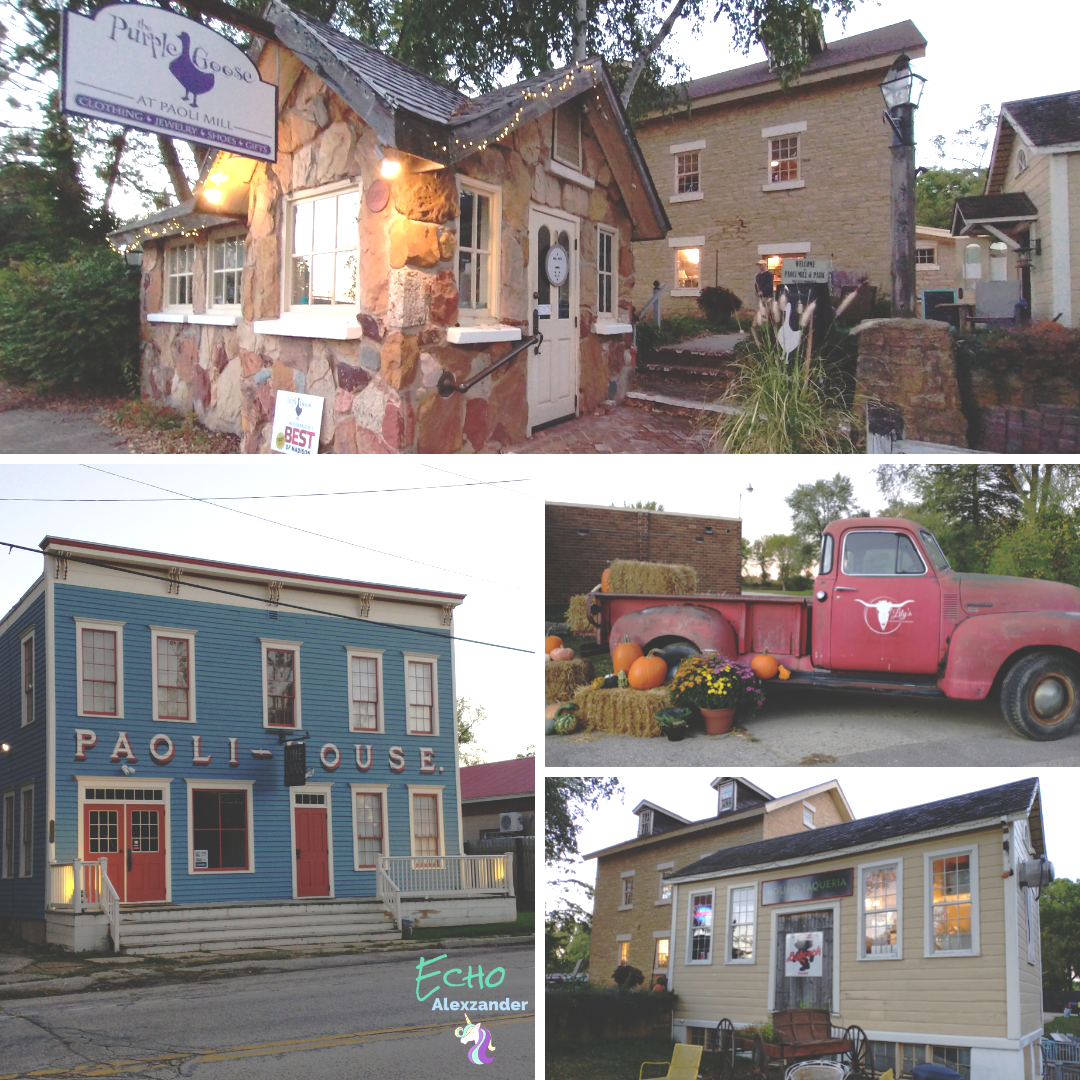 I recommend walking through the main street between the schoolhouse down to park. With fall in the air, they had fun pumpkins and other seasonal decor out for enjoyment!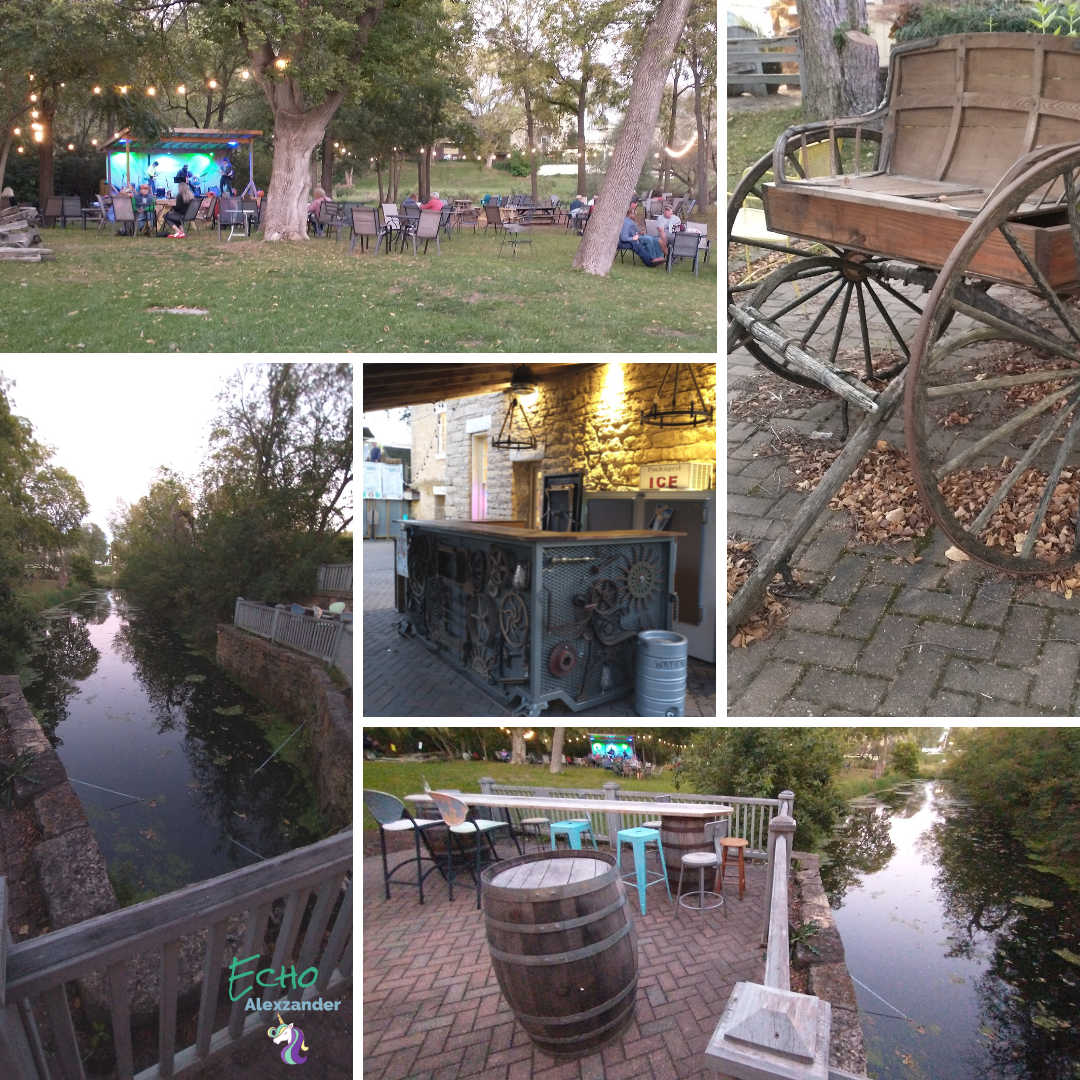 It was fun taking a stroll through the grass to the stage area where they were performing. People were enjoying lawn chairs and blankets under the lights as the sunlight began to fade. The nearby river offered the perfect backdrop to enjoy a drink and sit out while listening to the bands.
Next on my travels was a cute small town just 15 minutes southwest of Paoli. Though I wasn't able to enjoy beyond my drive past, but I must mention the 'New Switzerland in America',
New Glarus
village as it's ready for adventure!
Here are my quick thoughts until I can get back there and fully experience it all!

The Village of New Glarus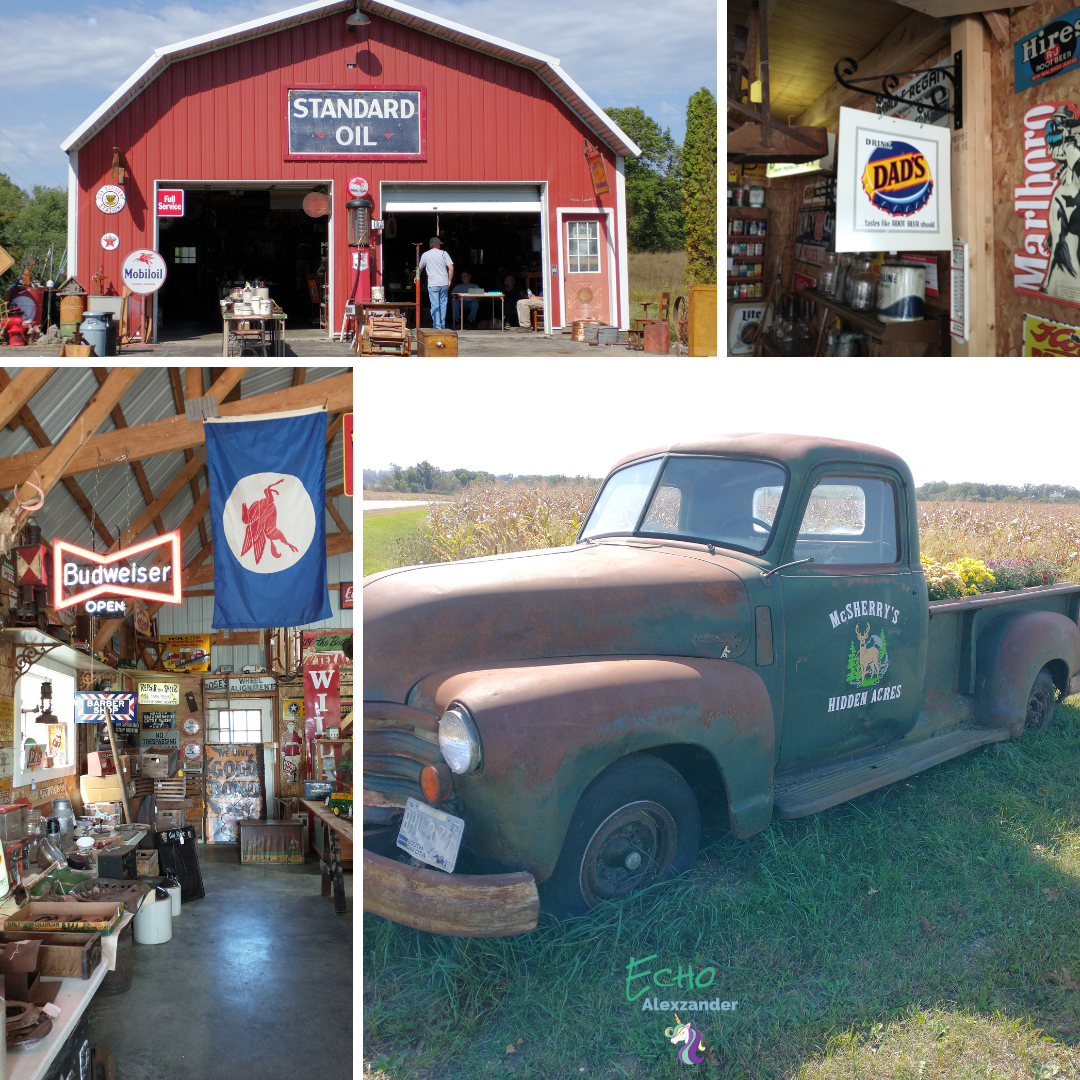 This historic town has a
Swiss Historical Village & Museum Tour
, it's own
brewery
, and much more.
"New Glarus was established as a Swiss Colony in 1845 and incorporated as a Village in 1901. The Village has retained its Swiss charm with Alpine-style architecture, ethnic festivals and Swiss delicacies."
Check out this
travel WI page
for more inspiration for your visit including seasonal events. If you drive from Paoli to New Glarus, keep your eyes out for
barns with antiques for sale
along the road. I found some real gems that are now in our
farm stay Airbnb
.
Coming next is Part 7, Adventures at Epic!
What is a favorite small town in America that you love that others might not have heard of before?

---
Information courtesy of Echo Alexzander